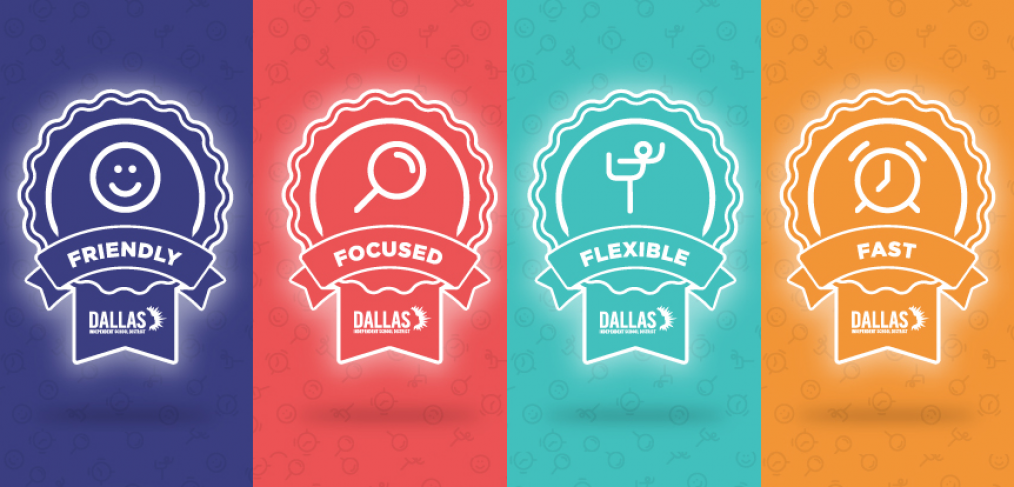 Core 4 Tip: Commit to the customer
The COVID-19 pandemic has created many challenges, but with a Core 4 approach to customer service, these challenges can be turned into wins. In Dallas ISD, we are responsive, accurate and accountable to each other as we seek timely solutions for our customers.
When interacting with customers—such as our students' parents and guardians—it's important to keep in mind the Fast core tenet of the district's culture. Parents are also finding it difficult to navigate the challenges brought about by the pandemic, making it even more important we remember that behind every call or email with which a parent reaches out to ask a question or share a concern, there is a person who needs to feel heard and understood.
This understanding happens when you practice active listening—a pillar of good customer service:
Adopt an attitude of understanding and focus. Even on a busy day, make the customer feel they are important and not a distraction from other priorities.
Focus on the speaker and listen without interruptions to learn what he or she needs from you or the district.
When the customer stops speaking, ask clarifying questions to make sure you have understood.
If you can't help, don't just connect the call. Stay with the customer until someone answers on the other end. And if you don't know who can help, take down their information and offer to call them back. Then call them back.
This approach also applies to emails. Whether you are actively listening or reading, keep in mind that how you respond to a parent's request could make a difference in how that parent feels about his or her child's school or all of Dallas ISD.
The Fast core tenet guides the urgency with which we approach our service to each other and our customers every day. The expectations are that you will:
Deliver accurate email and phone responses within 24 hours during normal business
Access data, policy, and all other relevant information sources to provide accurate and timely responses, regardless of requestor
Align time in relationship to task importance and consistently respond in a timely manner to requests between students, families, employees, and equity groups
Consistently adjust responses for problems and unforeseen circumstances to ensure equitable outcomes
To learn more about the Core 4 tenets that guide the district's culture, visit www.dallasisd.org/core4.