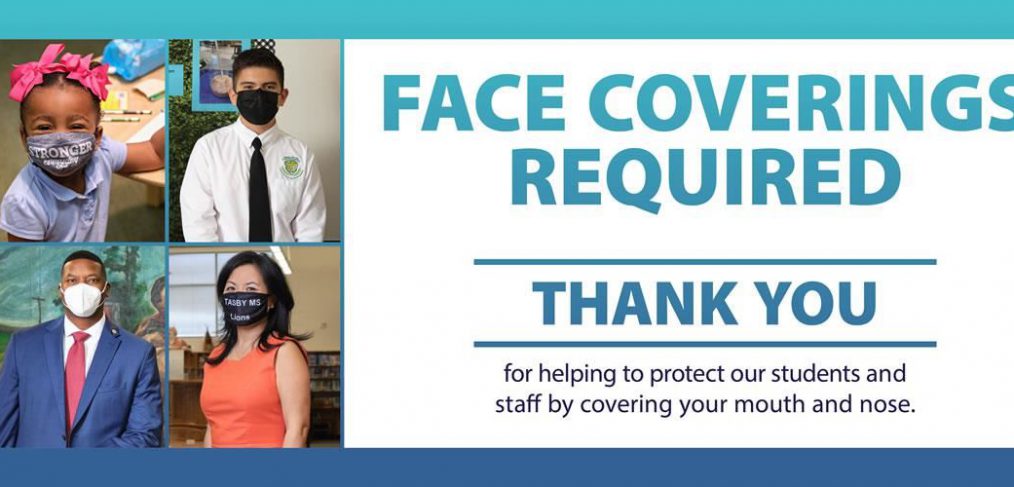 Temporary mask requirements continue
Dallas ISD will continue to temporarily require that students, staff and visitors wear masks while on district property as a reasonable and necessary safety protocol to protect against the spread of COVID-19 and the new Delta variant. Staff are asked to abide by the safety protocols implemented by the district for the safety of all, including wearing face masks properly at all times while indoors on district property except when actively eating or drinking.
With data clearly showing a surge in cases, including among children who are not eligible to receive the vaccine, Dallas ISD will continue to prioritize the safety and well-being of all staff and students. In addition to offering a financial incentive to staff who are fully vaccinated, the district will continue to provide personal protective equipment at all schools and facilities, maintain a regular sanitizing schedule, and temporarily require masks.
Employees who do not comply with the directive to wear masks while on district property will face progressive disciplinary action.
Our commitment to protect the health and safety of our students and staff is steadfast. We must provide a safe and quality in-person learning environment for our students to help them recover from any learning loss during the past year, and we need everyone's assistance. We appreciate your understanding and cooperation with all district protocols and thank you for your commitment to the safety of our students and each other.
To watch the news conference with Superintendent Michael Hinojosa, click here. 
_______________________________________________________________________________
Dallas ISD continuará temporalmente requiriendo que los estudiantes, empleados y visitantes utilicen mascarillas mientras estén en las instalaciones del distrito como parte de un protocolo razonable y necesario de seguridad contra la propagación del COVID-19 y la nueva variante delta. Se pide a los empleados que sigan los protocolos de seguridad que el distrito ha implementado para la seguridad de todos, incluyendo el utilizar mascarillas de manera apropiada todo el tiempo que estén dentro de las instalaciones del distrito y no estén activamente comiendo o bebiendo. 
Debido a la información disponible que muestra un incremento en el número de casos, incluyendo entre los niños que aún no pueden recibir la vacuna, Dallas ISD continuará haciendo de la seguridad y bienestar de los estudiantes y personal su más alta prioridad. Además de ofrecer un incentivo monetario al personal que haya recibido todas las dosis indicadas de las vacunas, el distrito continuará proporcionando equipo de protección personal a todas las escuelas y edificios del distrito, y desinfectando regularmente además de temporalmente requerir mascarillas.
Los empleados que no cumplan con la directiva de utilizar mascarillas mientras estén en instalaciones del distrito serán disciplinados de manera progresiva.
Nos mantenemos firmes en nuestro  compromiso con proteger la salud y seguridad de nuestros estudiantes y empleados. Debemos proporcionar un ambiente de aprendizaje seguro y presencial para nuestros estudiantes para ayudarlos a recuperar cualquier pérdida de aprendizaje que hayan experimentado el año anterior, y necesitamos de la ayuda de todos. Apreciamos su comprensión y cooperación con los protocolos del distrito y les agradecemos su compromiso con la seguridad de los estudiantes y de los empleados.
Para ver la conferencia con los medios que realizó el Superintendente Michael Hinojosa, pulse en el enlace.