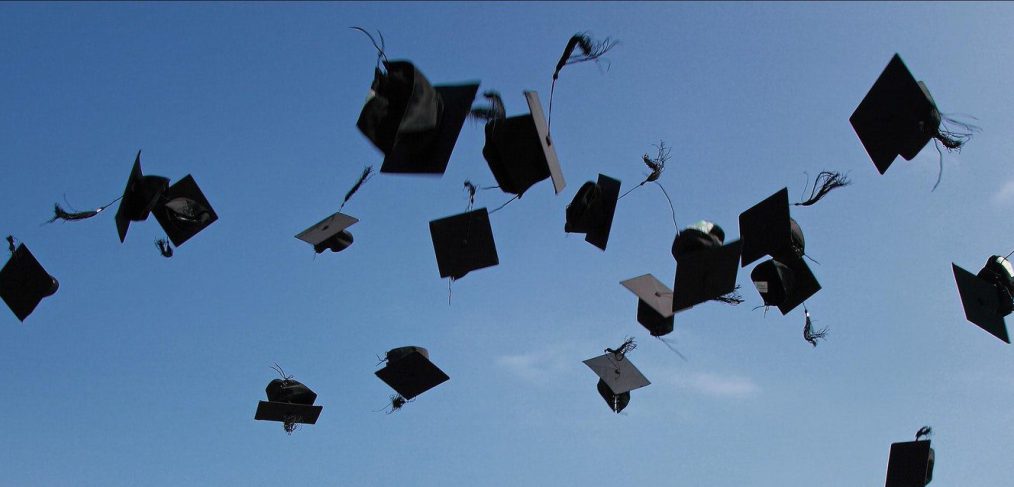 Congratulations staff graduates!
Education is a life-long endeavor, and no one exemplifies the continuous pursuit of learning like Dallas ISD employees. Congratulations to all who worked their jobs and their studies during the 2020-2021 year to earn a variety of degrees.
Veronica Aranda
W.W. Samuell High School and Early College
Master of Education in Special Education
Concordia University Texas
Blanca Hernandez
Dr. Wright L. Lassiter Jr. Early College High School
Bachelor's degree in sociology with a minor in Spanish from
University of North Texas at Dallas.
Melody Townsel
Booker T. Washington High School for the performing and Visual Arts
Master of Education with concentrations in urban education and talented and gifted
Southern Methodist University
Marvin DeWolfe
Data Systems, Food and Child Nutrition Services
Master of Science in Information Technology and Management.
The University of Texas at Dallas
Mariela P. Ochuba 
Robert T. Hill Middle School
Master's degree in Educational Leadership
University of North Texas Dallas
Aliza Aponte
Dallas Environmental Science Academy
Master of Education in Curriculum and Instruction of Science
The University of Texas at Arlington
Amy Anderton
World Languages
Doctor of Education in Organizational Leadership
Grand Canyon University
Wynterlyn Smith
Communication Services Welcome Center
Bachelor's degree in psychology
University of North Texas at Dallas
Philip Meaker
Woodrow Wilson High School
Doctor of Educational Leadership
American College of Education
Shundra Jones
Emmett J. Conrad High School
Master of Arts in Professional Development
Amberton University
Julianna Washington
Kennedy-Curry Middle School
Master of Education with a math and STEM focus
Southern Methodist University
Allison Woods
L.G. Pinkston High School
Master of Education in Urban Educational Leadership
Southern Methodist University
Michele Broughton
School Leadership
Doctor of Education
Southern Methodist University
Tanya Shelton
School Leadership
Doctor of Education
Southern Methodist University
Olga Romero
Dallas Hybrid Preparatory
Doctor of Education
Southern Methodist University
Phillip Potter
Walnut Hill Elementary School
Doctor of Education
Southern Methodist University
Jackeline Rodriguez
George W. Truett Elementary School
Master of Education in Educational Leadership
University of North Texas at Dallas
Katherine Wooten
Jose 'Joe' May Elementary School
Master of Education in Educational Leadership
University of North Texas at Dallas
Claudia Orta
Edwin J. Kiest Elementary School
Master's degree in bilingual education
Southern Methodist University
Norma Cavazos
Arturo Salazar Elementary School
Master of Education in Curriculum and Instruction
Texas Tech University
Priscilla Bolding
Dan D. Rogers Elementary School
Master of Education in Curriculum and Instruction
Texas Tech University
Anne Howell
Dan D. Rogers Elementary School
Master of Education in Educational Leadership
University of North Texas at Dallas
Duran E. Hargest III
Student Transportation
AA Multidisciplinary Studies with Honors
Grantham University
Rylie Cawthon
Piedmont GLOBAL Academy in Pleasant Grove
Master of Education
Southern Methodist University
Andrea Mason
Lee A. McShan Elementary School
Master of Education in Special Education
Lamar University
Patricia Aguinaga
Casa View Elementary
Master's degree in Curriculum and Instruction with a Graduate Certificate in Blended and Personalized Learning Methods
Texas Tech University
Jenny Wolff
John J. Pershing Elementary
Master of Nursing Administration.
Texas Tech University Health Sciences Center
Cassie Benzenberg
Booker T. Washington High School for the Performing and Visual Arts
Master's degree in art education
The Art of Education University
Tiffany (Aukes) Gayle
Sunset High School
Master of Education in Curriculum and Instruction, ESL Specialist
University of North Texas at Dallas
Aderienne L. Kelly
Francisco "Pancho" Medrano Middle School
Master of Education in Educational Leadership
University of North Texas Denton
Noemi Lawrence
Charles A. Gill Elementary School
Master's degree in bilingual education
Southern Methodist University
Alique Broadus
Elisha M. Pease Elementary School
Master of Education in Early Childhood Education
Texas Woman's University
Carol Chandler
Martin Weiss Elementary School
Bachelor of Applied Arts and Science
University of North Texas at Dallas
Soniris Rosas
STEM-Career Institutes
Master of Education
Walden University
Lily Ruble
Personalized Learning
Master's degree in curriculum and instruction
Texas Tech University
Maria Wagoner Benjamin
Social Studies Department
Master of Education in Education Administration
Texas A&M University
Katherine D. Coney
Career and Technical Education
Master of Education in Educational Leadership and Policy Studies
The University of Texas at Arlington
Steven Nguyen
North Lake Early College High School
Master of Education in Physical Education
The University of Arkansas
Christy Willis
Skyline High School
Master's degree in Library Science
University of North Texas, Denton
Shantelle Strunk
Winnetka Elementary School
Master's degree in special education
Texas Tech University
Blanca Sanchez
School Leadership
Bachelor of Science in business administration
Texas A&M Commerce
Margo Viel
Speech Therapy
Master of Science in Communication Sciences and Disorders
Texas Woman's University
Jean A. Jackson
Seagoville High School
Master of Science in Educational Leadership
University of North Texas at Dallas
Matthew Hight
John Quincy Adams Elementary
Master of Education
Southern Methodist University
Christine Farrell
Skyline High School
Doctor of Science
American College of Education
Kelly Connor
David W. Carter Collegiate Academy
Doctor of Education in Organizational Leadership
Grand Canyon University
Ron Bramhall
Gilbert Cuellar Sr. Elementary School
Master of Education with emphasis in gifted and talented and urban education
Southern Methodist University
Meghan Tokunaga-Scanlon 
David G. Burnet Elementary
Master of Arts in Educational Leadership and Policy Studies
University of Northern Colorado
Barbara Strom
Special Education Department
Master of Education in special education
Northcentral University
Cassie Felicella
Stevens Park Elementary School
Master of Education with a Montessori specialization
Southern Methodist University
Matthew Spencer
Enterprise Applications
Master of Business Administration in IT Management
Western Governors University
Beverly Hasty
Ann Richards STEAM Academy
Bachelor of Business Administration
Lamar University
Rachel Harrah
Visual and Performing Arts Department
Master of Education in Educational Leadership with a principal certification.
Stephen F. Austin University
Chante Stearn 
Food and Child Nutrition Services
Associates Degree Medical Office and Billing Specialist
Ultimate Medical Academy
Adrienne Hearn
Thomas Tolbert Elementary School
Master's degree in Teacher Leadership
Lamar University
​Traci Moton
Wilmer-Hutchins High School
Master of Education in Urban Educational Leadership
Southern Methodist University
Laura Conejo Sanjuan
Leila P. Cowart Elementary School
Master of Education in Curriculum and Instruction
University of North Texas at Dallas
Diana McGee
Thomas J. Rusk Middle School
Bachelor of Applied Arts and Science
University of North Texas at Dallas
Nelvin Santiago
Urban Park Elementary School
Doctor of Education in Educational Leadership
Trevecca Nazarene University
Tamiko Jones
Student Transportation Services
Bachelor of Business
Texas Woman's University
Toni Harrison-Kelly
Sarah Zumwalt Middle School
Doctor of Education in Curriculum and Instruction
Texas A&M
Kai Walker
Special Revenue Funds Management
Master of Business Administration
Nova Southeastern University
Nancy Dueñes
Walnut Hill International Leadership Academy
Master of Education in Educational Leadership
Southern Methodist University
Juan Carlos Strickland
Social Studies Department
Master of Education in Urban School Leadership
Southern Methodist University
ReNeice Reed
Harry Stone Montessori Academy
Master of Education in Educational Leadership
University of North Texas at Dallas
Vincent Monroe
Police and Security
Criminal Justice
Dallas College
Sheila Morales
Career Institutes
Doctor of Education
Inter American University  of Puerto Rico
Personalized learning teachers who just completed their Blended and Personalized Learning Graduate Certificate from Texas Tech University:
Juan Moreno, Personalized Learning Preparatory at Sam Houston Elementary
Angelica Leal Ventura, Henry B. Gonzalez Personalized Learning Academy
Jorge Alvarado, Dan D. Rogers Elementary
Yesel Gutierrez, Solar Preparatory for Girls
Lasonja Metcalf, Thelma Richardson Elementary
Tiffany Hardy, Thelma Richardson Elementary
Laura Reed, Jack Lowe Sr. Elementary
Mayra Valencia, Personalized Learning Preparatory at Sam Houston Elementary
Dania Marrero, Arturo Salazar Elementary
Katerias Hill-Jones, Personalized Learning Preparatory at Sam Houston Elementary
Yesenia Amador, Arturo Salazar Elementary