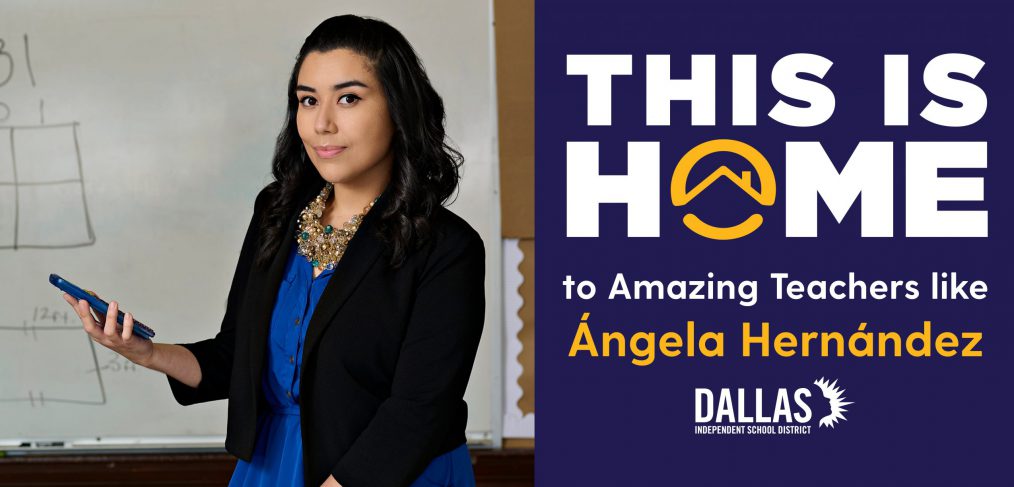 Elementary teacher finds her home through perseverance
Hard work, perseverance and the need to help others succeed has led Angela Hernandez, to find herself at home as a fourth-grade teacher at John Quincy Adams Elementary School.
Hernandez started her journey with Dallas ISD as a 2011 graduate of Skyline High School and became a teacher's assistant in prekindergarten after graduation. She enjoyed engaging the campus's youngest students and their parents so much and did such a great job that she transitioned into a new assignment as a parent liaison at the school.
"I really enjoyed working with parents and building community connections that ultimately helped students succeed," Hernandez said.
While serving as a liaison, Hernandez earned her bachelor's degree from the University of North Texas at Dallas—the first person in her family to do so.
Thanks to Dallas ISD's Alternative Certification Program, she was able to complete her teacher certification while maintaining her full-time job at Adams Elementary, where she is now a teacher.
Hernandez acknowledges that teaching has its challenges, but she wouldn't do anything differently.
"I live for 'light bulb moments when students learn and finally get it," Hernandez said. "I love helping students understand that they can succeed and accomplish anything. I'm proof that this is true."
The students, parents, and staff of Adams Elementary appreciate Hernandez's contribution and all that she brings to their campus.
"Angela is a passionate, dedicated, resilient, and courageous teacher who loves education and does not cease to continually reflect and grow to serve our Pleasant Grove community regardless of the challenges life puts in front of her," said Yoshiko Reyes, Adams Elementary principal.