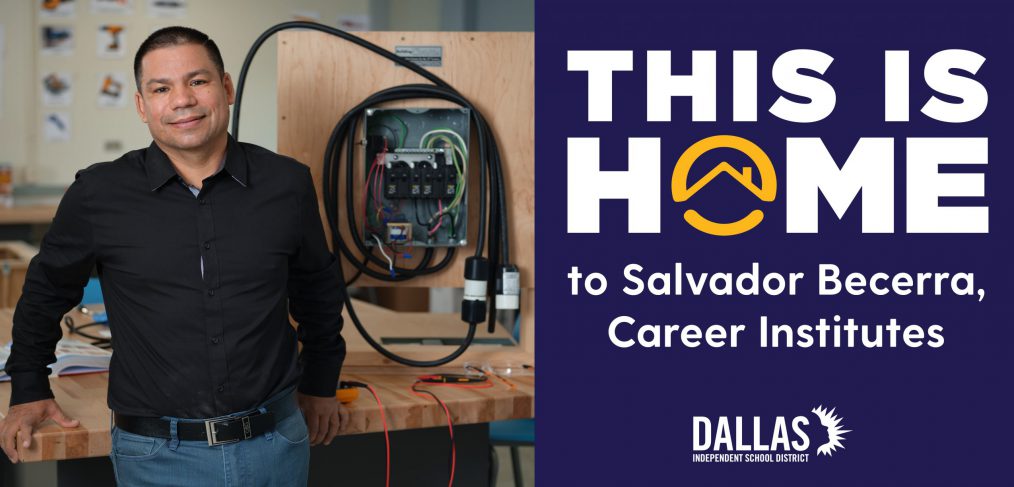 Creating your own success
When Salvador Becerra, a construction instructor at Career Institutes East, tells his students that their success is up to them, he is not just sharing platitudes. After more than 34 years as a custodian and maintenance staff at Dallas ISD, The University of Texas Southwestern Medical Center and other companies, Becerra jumped at the opportunity to share his wealth of knowledge and experience as a full-time teacher.
"Teaching is a gift that allows me to do my part to change the community and share everything I've learned in the real world," Becerra said.
Becerra has a degree in Heating, Ventilation, Air Conditioning and Refrigeration from Dallas Community College. Over the years, he also has become an expert in other areas like plumbing and electrical technology. His skills gave him the opportunity to earn high wages and successfully raise his family. In his view, this is what Career Institutes is all about.
Dallas ISD's Career Institutes give students the opportunity to gain hands-on, real world experience that can be used to land high-demand, high-wage jobs in aviation, construction and carpentry, electrical and solar technology, interior design, HVAC, plumbing and pipefitting, cybersecurity or mechatronics.
"Career Institutes is a good program that allows students to learn by doing," Becerra said. "The textbook is good and necessary, but there is nothing like using your hands to learn and grow."
Becerra has thoroughly enjoyed teaching and interacting with students. For him, it is a way to give back and help students.
"When you see your students' progress, it's amazing," he said.
For more information about Career Institutes, visit www.dallasisd.org/careerinstitutes.