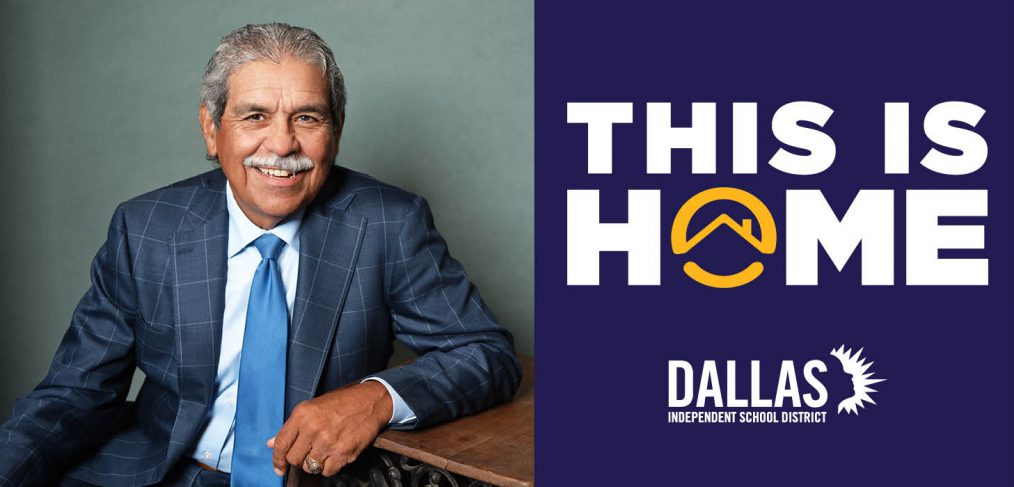 Dallas ISD is home
Home is where you grow, learn and discover and where you are always welcome, and for generations of students, staff and alumni, Dallas ISD is that place—it is home!
Every day, our diverse population of students has infinite opportunities to excel—from innovative academic programs to outstanding athletic opportunities and so much more. Dedicated staff, many of whom grew up in the district or simply now call it home,  have returned to give back and help shape young minds.  Not to mention a long line of alumni who are now major contributors to the success of our city.
"I'm proud to call Dallas ISD home," Superintendent of Schools Michael Hinojosa said. "I came here as a young immigrant, grew my career and reaped the benefits of all the district and this dynamic city had to offer. I put down roots here, raised a family and built a career, " he said. "Dallas ISD invested in me, and in return, I'm committed to make sure we offer that same life-changing opportunity to every student we serve."
Innovation in neighborhood schools, with programs such as leadership academies, novel engineering, STEM & STEAM, personalized learning, International Baccalaureate and much more.
One of the largest Dual Language programs in the country, serving 158 schools.
Career Institutes, which prepare high school students to graduate with the skills and certifications they need for a high-wage, in-demand job in a technical pathway.
100 + choice schools/specialty programs, such as the first-of-its-kind public hybrid model school, an IB school on a college campus in partnership with an HBCU in southern Dallas, and other options such as Montessori, magnet, fine arts academies, STEM/STEAM, single gender, project-based learning, entrepreneurship, P-TECH and Early College.
Over 650 co-curricular fine arts programs located in schools throughout the district, spanning multiple artistic genres across a wide range of disciplines, including: Band, Choir, Dance, Orchestra, Theater, and Visual Arts. These engaging programs ignite a passion for learning while showcasing the brilliant creative talents of our student artists.
Interscholastic athletic programs with more than 13,000 student athletes who participate in sports such as football, cross-country, swimming, wrestling, soccer, basketball, track & field and much more.
Quality early childhood education, including free, tuition-based and scholarship-assisted Pre-K opportunities.
Extracurricular activities such as chess, esports, academic decathlon, debate, cheerleading, UIL competitions, newspaper and yearbook, and others.
Special Education accommodations in general education settings and in specialized classroom services, with support in areas such as dropout prevention, family engagement, positive behavior supports and transition.
Diversity– students who come from 150 countries and speak more than 70 languages.
More than 22,000 employees and over 153,000 students.
There is no place like home, and there is no place like Dallas ISD!
Dallas ISD – This Is Home!This Is Home is a campaign to celebrate our stories and diversity. The multi-platform campaign will feature stories of the people and programs that make Dallas ISD. 
We want to hear from you. Tell us your Dallas ISD This Is Home story by sharing it on social media using the hashtag #DallasISDIsHome or by sending an email to: thisishome@dallasisd.org.