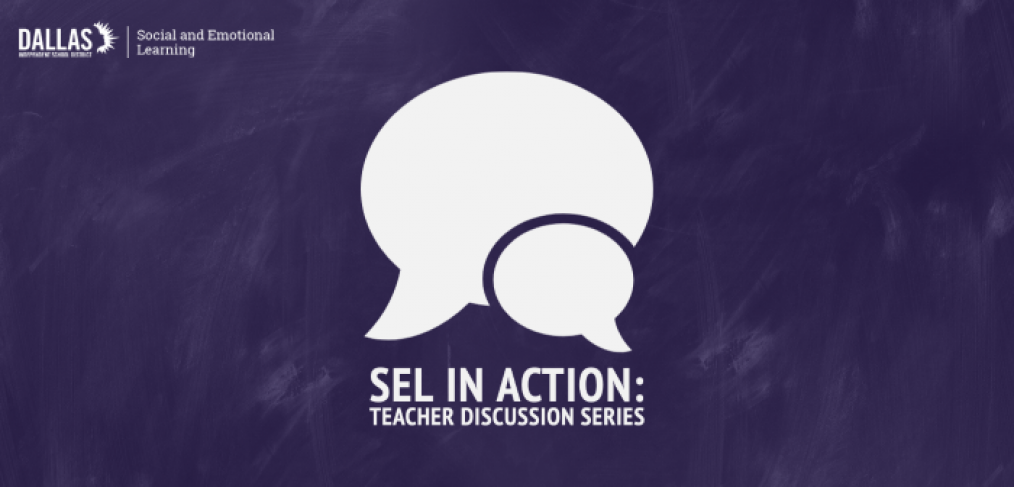 Let's discuss
The Social and Emotional Learning Department has a new discussion series just for teachers. The SEL In Action: Teacher Discussion Series will meet every fourth Wednesday through May, to engage Dallas ISD teachers in informal discussions centered around important topics educators are facing.
These open forums will be a safe place to discuss these topics, build community, form healthy relationships, and discuss social and emotional wellness.
SEL In Action: Teacher Discussion Series Schedule:
February: Celebrating Black Educators | *Wednesday, March 10, 4:45-5:30 p.m.
February discussion articles: Teaching While Black: An Open Letter to School Leaders by Sharif El-Mekki, and Breaking through the Burden of Strength by Kel Hughes Jones
March: Managing Stress | Wednesday, March 24, 4:45-5:30 p.m.
March discussion article: Coping with Change and Uncertainty by Phyllis L. Fagell
April: Creating Spaces of belonging: Dallas ISD PRIDE + Allies | Wednesday, April 28, 4:45-5:30 p.m.
April discussion article: Being Accepted, Not Just Tolerated, Is Good for Mental Health by Peter DeWitt
May: Reigniting our sense of purpose | Wednesday, May 26, 4:45-5:30 p.m.
May discussion article: The Lowdown on Burnout by Elena Aguilar
Teachers can sign up at https://forms.gle/gHpnCeiUbrw5QhBX7. Contact Aileen Mokuria, SEL manager, for additional support. For additional SEL resources, visit www.dallasisd.org/sel.
*Due to the 2021 winter storm, February's discussion has been rescheduled from its original date to Wednesday, March 10.