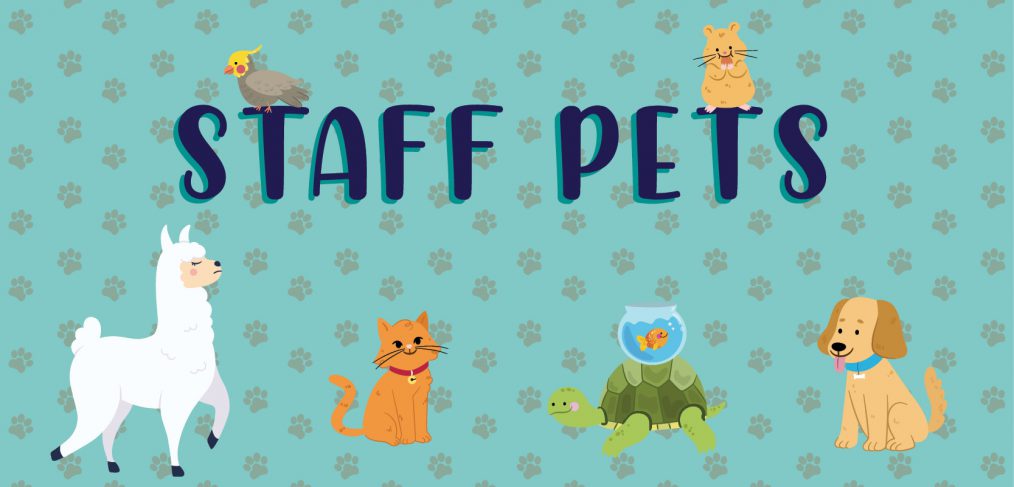 Staff pets bring joy
Whether exotic or more traditional, pets bring joy and brightness into the lives of Dallas ISD staff, who are sharing their love for dogs, cats and even spiders.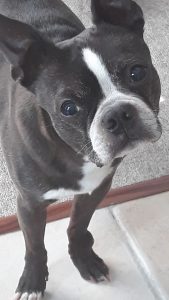 Boss is the biggest jerk I know. He is gassy, a picky eater, and persnickety about the people he hangs around with. On occasion, he will get a crazed look in his eye and attempt to bite well-meaning people for simply petting him. Maybe he sees something in them that I don't. Regardless, he is deliberately funny and likes to do things to make me laugh. He likes to help me clean house by picking up his toys. He likes to lay on my cold feet to help keep them warm. Though he doesn't like to cuddle, he has been by my side through thick and thin and that is one of the many reasons I adore him. I love Boss more than most people, and he is truly my best friend.
Toni D. Brannon-Ward, Lincoln HS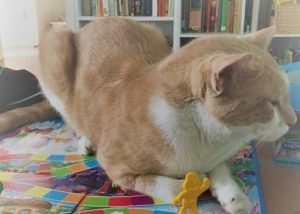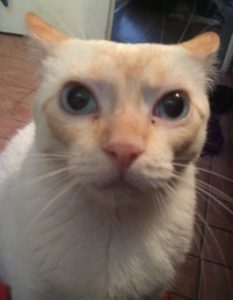 Monkey and Jon Snow are both rescues who were found feral and sick as kittens. As a result of his rough start in life Monkey, now 2 years old, is blind, but he doesn't let that slow him down! Jon Snow is now a healthy 4-year-old cat and my best friend. I still volunteer with rescue organizations and occasionally take care of foster kittens, so if anyone is looking for a fur-ever friend reach out and let me know!
Catherine Cates, Bilingual/ESL Department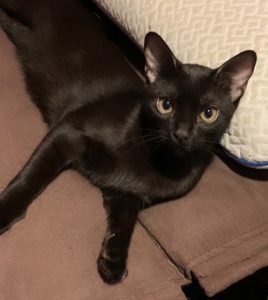 Freak is my 8-month-old kitten. He was found alone in a construction site as a tiny baby with no mother around. One of the workers brought him home, and when they reached out for rescue, I offered to bottle feed him. He is now the sweetest, most loving and playful boy you'll ever meet. We recently found out he has an enlarged heart that may affect him down the road, but for now, we are working with our vet and making sure he has the best life ever. He is a very special kitty who loves everyone he meets. I feel so lucky to be his mom!
Madison Arriaga, E.D. Walker MS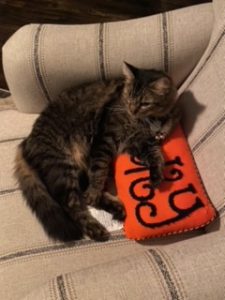 Trix was adopted from an animal shelter by the Falcon Family. She is our only pet and rules the house. She loves to cuddle and always wants to be with her human "pets." We believe she is part dog because she stands on her hind legs and claps her front paws when she really wants something.
Lisa Falcon, Urban Park ES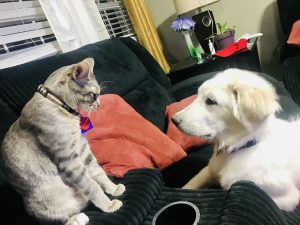 My daughter got Jojo, the cat, to be her companion in College Station. He is such a talkative cat.
My son got Chanel last June in the middle of the pandemic. We got her when she was only 5 weeks old. Now, she's turning 9 months old and she turns out to be a big dog that brings so much joy to everyone who sees her. We are first timers in having pets, and we are all delighted having them as the youngest members of our family.
Ma. Teresa Malana, J.L. Long MS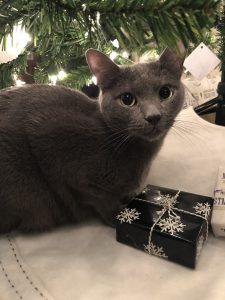 This is my adorable cat, Luna. I've had her since she was a teeny, tiny 5-week-old kitten. She's three now, and her favorite things are salmon, rattles, and Christmas lights.
Itzel Rodriguez, Francisco "Pancho" Medrano MS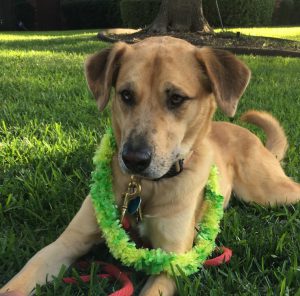 Whoever said money can't buy happiness never paid an adoption fee. We rescued our sweet Charlie boy from Paws in the City, an all-volunteer, no-kill organization with the commitment to ending the overpopulation, abuse, and neglect of Dallas-Ft. Worth area dogs. Charlie is a Catahoula Leopard mix who loves being outdoors chasing rabbits or squirrels. He is an excellent snuggler and enjoys going for car rides.
Natalie Janssen, Arthur Kramer Elementary an IB World School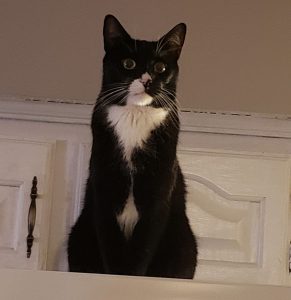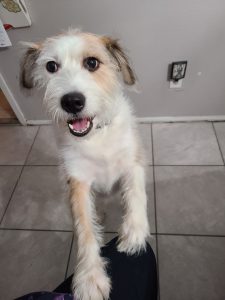 Both Shredder and Vader were adopted.  My daughter found Shredder when people were trying to find his owners.  His owner couldn't be found so my daughter took him in.  He's a great dog.  He's loving and my daughter's protector.  Vader has been with us since he was a kitten.  He's very independent.  He likes to cuddle on his own time.  Shredder and Vader love each other.  They are a perfect match for brothers.  They've made our family complete.
Maria Benitez, Larry G. Smith ES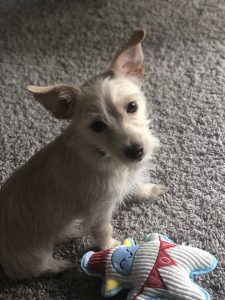 Chauncey makes me happy because he always reminds me how to live carefree and in the moment. His kisses when I'm not myself and the cuddles while we watch TV are the best. Each day I cannot wait to come home to see him.
Ciara Beasley, Wilmer Hutchins ES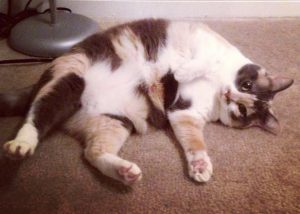 Callie was a shelter cat that we were so fortunate to come across. She brings so much light and love to our lives. Callie is a sweetheart most days, but do not let that cute face fool you. If she is feeling hangry, you will see a sassy side of her. We adore her so much.
Rebecca Ajuluchukwu, Nathaniel Hawthorne ES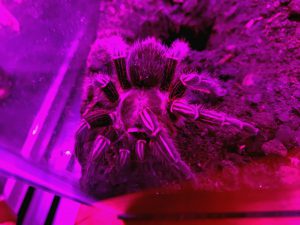 Ramen is our tarantula. He may not be everyone's idea of cute, but he was a great learn-at-home companion in early spring of last year. We love it when he comes out of his den to say hi, and he is a great listener, it would have been lonely working without him.
Isabela Espinosa, Kleberg ES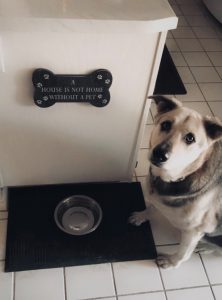 Summer is our 5-year-old German Shepard and Husky mix. We often refer to her as "Summer Lovin" from the 1978 movie "Grease." Her name fits her well because she's a huge fur ball of energy and happiness every time. She brightens the room and gives our children wonderful childhood memories. Her Mommy is my sister's dog, "Daisy." My sister now calls Summer her "grand-puppy".
Michelle Orona, Graphics Department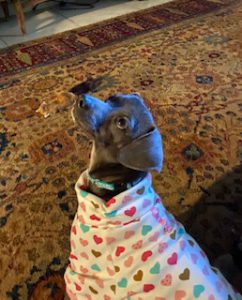 I adopted Zelly from a rescue over winter break. She is the sweetest dog and brightens my day. She doesn't just wag her tail she wags her entire body.
Janet Wilson, K.B. Polk ES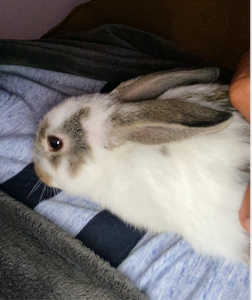 I am an animal lover! I have two bunnies, a chameleon and a Syrian hamster. Animals give me peace and during this COVID-19 situation, just getting home and having a moment with them is such a blessing. The hamster's name is Nico and the bunnies are Nano and Shakira.
Luis Julio Díaz-Chéverez, Leila P. Cowart ES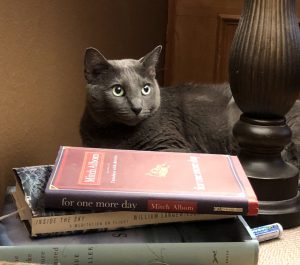 Zoey is the Queen of our home. Everything revolves around her whims and attitude. She is a great traveling companion, and her destination choice is Colorado. Her favorite activities include eating, napping and lying in the sun.
Kerry Glittenberg, Urban Park ES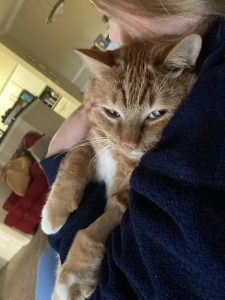 Milo treats me like I am his dad. When I come home, he is very excited to see me and immediately falls asleep on my lap whenever I sit down. He is the most affectionate cat I have ever known. When I go to bed, he is laying on me and when I wake up, he is still there. Throughout the day he will follow me all over the apartment.
Eric Latimer, W.W. Samuell HS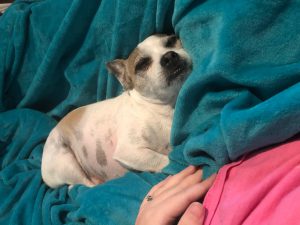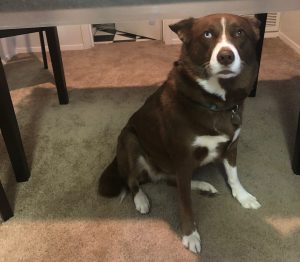 Oscar and Pepper light up my life. Oscar, the smaller one who is sleeping, is always down for snuggles and is pretty sure that you can't be upset when he is yelling at you to play with him. Pepper, the big one, is always on the hunt for her next meal. Here she is pictured patiently waiting for anything to fall from the giant charcuterie board we put together. They both care and love so deeply and make life so easy. They are the best reason to get out of bed.
Morgan Merriman, Woodrow Wilson HS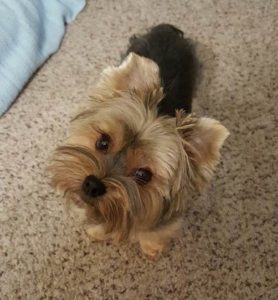 Sandy Anderson, my 12-year-old Yorkie, is most dear to my heart because she is a sweet and loving part of the family. Sandy makes me feel a sense of comfort when around her because she loves to get and give affection. Sandy is extremely friendly with everyone and loves to play fetch the monster.
Anya Anderson, Arthur Kramer Elementary IB World School