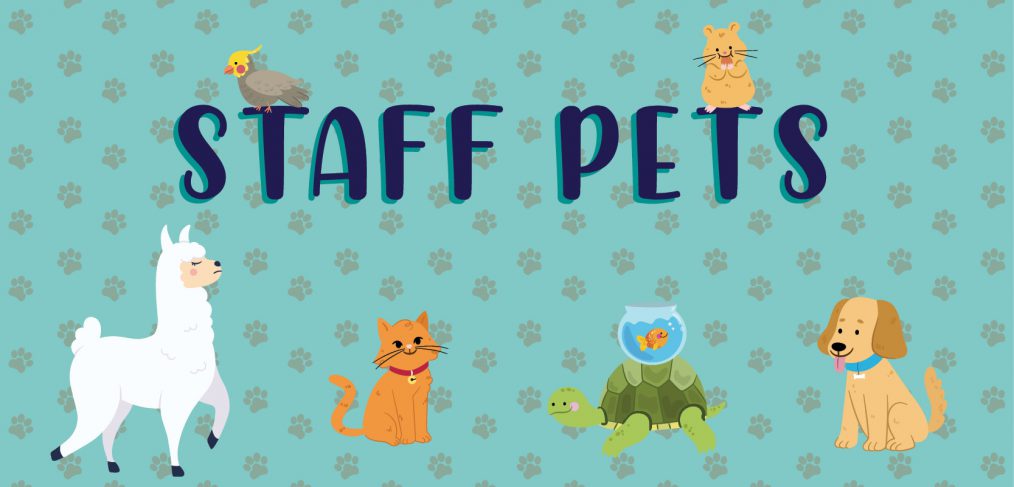 Staff pets make themselves at home
Whether it's love at first-sight or it takes a few tries, rescues and pets adopted from shelters and community organizations have proven to be blessings for many in Dallas ISD. Some pets have come from more unusual places like Dallas ISD's Environmental Education Center.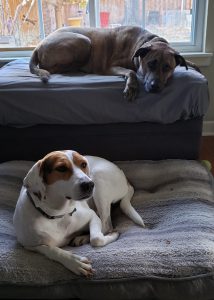 Lola is a 5-year-old shepherd-pit bull mix we adopted from Operation Kindness in 2016 after her first two strikes. A year later came Ella Fitzgerald ("Ellie"), a 5-year-old Treeing Walker Coonhound, also from Operation Kindness and also with two strikes, because whatever Lola wants, Lola gets, and Lola wanted a puppy. While they have proved many times why it took three tries to get it right, we are so glad they waited for our family to take them home. They make us laugh, keep us fit, and protect us—mostly from squirrels and rabbits, but probably from other things, if needed. Here they are supervising Mom while she works.
Karla Genter, Evaluation and Assessment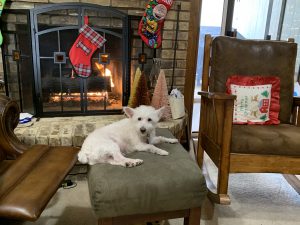 Geoffrey is a Westie mix who was abandoned over five years ago on a school playground.  He was rescued after being left outside in the pouring rain by my husband Forrest Oliver (Dallas ISD retired teacher).  He has been such a joy and is loved and adored by all.  Geoffrey is very affectionate but fiercely independent.  He enjoys his daily walks and meeting new people as well as our neighbors.  The neighborhood children love petting him and giving him treats, which he frequently buries to be enjoyed at a later time.
Ronald Mart, Dallas ISD substitute.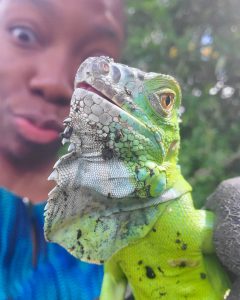 Emerald is a female iguana I have had for a year. I also have Brownie, a rabbit I have had for a few months and that came from the Environmental Education Center, and Shadow, a chicken that is a few weeks old.
Brittany Toomer, CityLab HS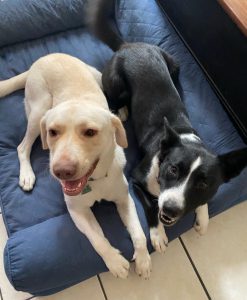 Layla and Ava came into my life in 2018, a few months after my sweet dog passed away. I wasn't sure if I would be able to open my heart for two more dogs, but they really made it hard not to! They are so sweet, and I love the bond they have with each other. Everyone in my family loves these two, even my stubborn dad.
Lisette Ceniceros, School for the Talented and Gifted in Pleasant Grove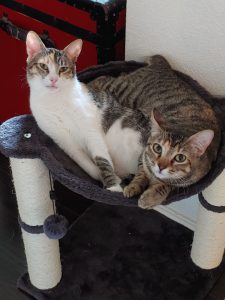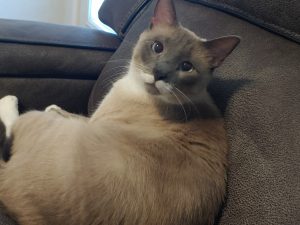 We adopted three cats over the summer.  First, we got the sweetest little sisters, Rosemary and Vera, and a few days later, we adopted our big, handsome boy, Dasche.
Carey Bain, Ignacio Zaragoza ES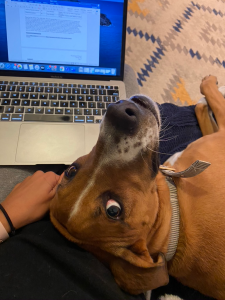 Here is my very sweet dog, Rai (pronounced "rye") snuggling on me while I try to work. When I'm on my laptop is her favorite time to seek attention and put her head on my keyboard!
Poonam Dubal, Mental Health Services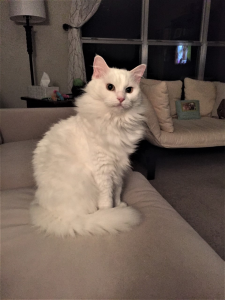 The majestic feline you see above is Princess Snowbelle. As a former dog person, I never imagined I'd fall in love with a cat, but here we are. She loves expensive, grain-free treats and being brushed, particularly under her chin. As her appearance would indicate, she's a bit of a diva and loves to act as my own personal alarm clock on weekdays and weekends alike. She isn't a lap cat but deigns to sit near me instead. She was adopted from Operation Kindness two years ago and celebrated her 11th birthday in August.
Jordan Hillis, Moisés E. Molina HS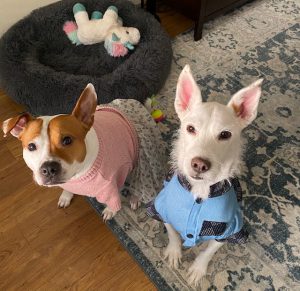 These are Angel and George, they both turned 6 years old this past summer.  We rescued them from DAS and are now a bonded pair. They love to go to the park and chase tennis balls on the weekends and ride along during errands in the car.  They also have helped foster many of the bottle baby kittens we have had over the past few years by being stand-in parents and showing the ropes to the babies. We are so thankful for these snuggle bugs.
Kristen Trueblood, W.T. White HS