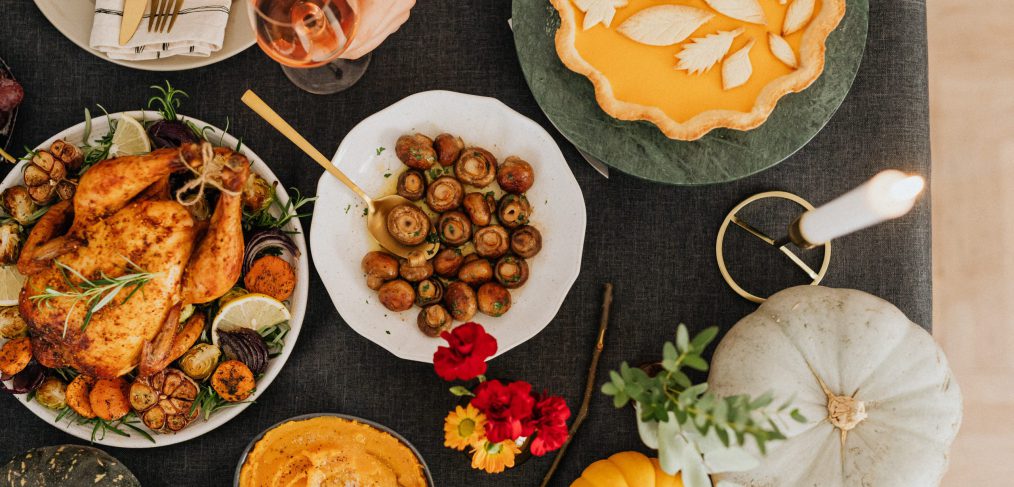 Family specials
Staff shared some family favorite recipes for Thanksgiving. Enjoy!
Green Beans Casserole
Fabiola Calix Aguilar, Ignacio Zaragoza ES
This is one of my family's favorite Thanksgiving recipe that we have every year, I hope you like as much as us.
Ingredients
Beans and sauce:
2 tablespoons + 1 teaspoon Kosher salt divided
1 Pound fresh green beans, rinsed, trimmed and halved
2 tablespoons unsalted butter
12 ounces mushrooms, trimmed and cut into ½ – inch pieces
½ teaspoon freshly ground black pepper
¼  teaspoon freshly ground nutmeg
2 cloves garlic, minced
2 tablespoons all-purpose flour
1 cup chicken broth
1 cup half and half
For the Topping:
2 medium onions, thinly sliced
¼ cup all- purpose flour
2 tablespoon panko bread crumbs
1 teaspoon kosher salt
Nonstick cooking spray
Directions:
Preheat the oven to 475 degrees F.
Combine the onions, flour, panko and salt in a large mixing bowl and toss to combine. Coat a sheet pan with nonstick cooking spray and evenly spread the onions on the pan. Place the pan on the middle rack of the oven and bake until golden brown, approximately 30 minutes. Toss the onions 2 to 3 times during cooking. Once done, remove from the oven and set aside until ready to use. Turn the oven down to 400 degrees F.
While the onions are cooking, prepare the beans. Bring a gallon of water and 2 tablespoons of salt to a boil in an 8-quart saucepan. Add the beans and blanch for 5 minutes.
Drain in a colander and immediately plunge the beans into a large bowl of ice water to stop the cooking. Drain and set aside.
Melt the butter in a 12-inch cast iron skillet set over medium-high heat. Add the mushrooms, 1 teaspoon salt and pepper and cook, stirring occasionally, until the mushrooms begin to give up some of their liquid, approximately 4 to 5 minutes. Add the garlic and nutmeg and continue to cook for another 1 to 2 minutes. Sprinkle the flour over the mixture and stir to combine. Cook for 1 minute. Add the broth and simmer for 1 minute. Decrease the heat to medium-low and add the half-and-half. Cook until the mixture thickens, stirring occasionally, approximately 6 to 8 minutes.
Remove from the heat and stir in 1/4 of the onions and all of the green beans. Top with the remaining onions. Place into the oven and bake until bubbly, approximately 15 minutes. Remove and serve immediately.
Almost healthy brussels sprouts
MariCarmen Eroles, Communication Services
I love brussels sprouts, and I am always looking for ways to make them so other people will love them. They are a great year-round vegetable, but I always think of them a great fall/winter dish.
Ingredients
1 lb. brussels sprouts whole or shaved
6 slices of maple smoked, thick cut bacon
olive oil
salt and pepper
4 tablespoons of good aged balsamic vinegar
Directions:
If your brussels sprouts are whole, clean them by removing the first layer of leaves and slicing off the end of the stalk. Rinse them and cut them in half; leave the very small ones whole. If you are using shaved brussels sprouts, rinse them and set them aside. Steam the brussels sprouts so that they are cooked but still firm. About three minutes in a steamer in the microwave.
Cut the bacon into small pieces. If it's very fatty, remove some of the fat. Once you have cut up the bacon, fry it in a cast iron skillet (if you don't have one, any skillet will do) until almost crisp. Pour out into a container the excess fat so that there is only a little bit left in the skillet.
Add the steamed or shaved brussels sprouts to the skillet and sautee with the bacon until the brussels sprouts are browning. Taste for salt because the bacon may have provided enough; if needed, add salt and pepper. Before they are done, pour the four tablespoons of balsamic vinegar over the bacon-brussels sprout mix and let it cook down for about two minutes, Serve warm. They make great leftovers.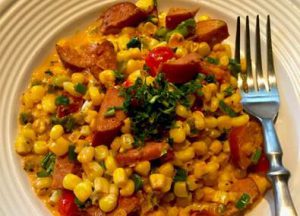 Corn and Sausage Maque Choux
Chef Trina Nelson, Food and Child Nutrition Services
This is a great take on fried corn for the holidays and one of my favorite ways to make corn—Cajun Style. Let me know what you think!
Ingredients
3 ears corn, husks and silk removed or 1 bag of frozen whole kernel corn
3 tablespoons butter
1/2 – 1 pound Andouille Sausage or smoked sausage, cubed
1/2 cup yellow onion, chopped
1/4 cup green bell pepper, chopped
1 teaspoon Creole seasoning
2 teaspoon fresh thyme
1 tablespoon garlic, minced
1/2 teaspoon hot sauce (optional)
3 green onions, chopped
1/4 cup diced tomato
Italian parsley to taste
1/4 cup heavy cream
1/2 teaspoon kosher salt
1/2 teaspoon black pepper
Directions
Roast corn until heated through, about 10 minutes, in a 400-degree oven on a roasting rack. Remove from the oven, cool and remove corn from the cob. Set aside.
In a large skillet, heat butter and add Sausage, sauté for 3 minutes. Add corn, onion, bell pepper, Creole seasoning, thyme, garlic, hot sauce, green onion, tomato and parsley. Cook until soft, about 10 minutes.
Add cream and continue to cook for 2 minutes. Remove from heat and add salt and pepper. Adjust seasoning and serve warm.