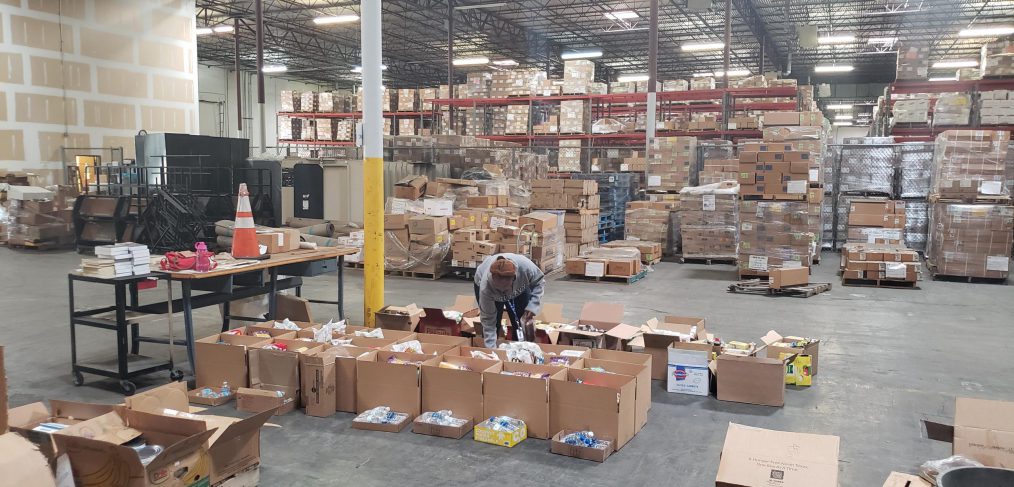 Dallas ISD program supports homeless students
Recently, in the spirit of Thanksgiving, hundreds of pounds of food and hygiene products were picked up by schools to distribute among the almost 4,000 Dallas ISD students who are considered to be homeless. The food distribution is one of the highlights of activities by the Homeless Education Program during November, Homeless Youth Awareness Month.
"We have been working with the North Texas Food Bank for a few years," said Ashley Marshal, outreach manager for the district's Homeless Education Program. "We are extremely grateful for this partnership this year since the pandemic has put such a strain on the usual nonprofits and donors that have donated Thanksgiving dinners to us in the past."
The food bank sends food and hygiene products every other week during the school year, which are then sent to the high school drop-in centers for students and their families to access as needed.  Last week, the food bank was able to double their delivery in light of the upcoming holiday, Marshall said.
Schools with a high number of homeless students were invited to come pick up boxes of food and products to stock their pantries for homeless students who attend the schools. Students are considered homeless if they lack a fixed, regular and adequate nighttime residence.
November was first declared as National Homeless Youth Awareness Month in 2007 to acknowledge the challenges homeless students face. Along with losing their home, community, friends, and routines, students who are homeless also lose their sense of stability and safety and are often victims of trauma.
In support of the Homeless Youth Awareness Month, the Dallas ISD Homeless Education Program also provided resources and trainings on the McKinney-Vento Act to help district staff and community partners better understand and support homeless youth.
Classes about the McKinney-Vento Act are offered throughout the year. You can register by using Sign-Up Genius or by emailing homelesseducation@dallasisd.org.
If you are a staff and/or a student with Dallas ISD experiencing a homeless crisis, please call HEP at 972-749-5750 or call 1-888-411-6802 (Homeless Crisis Hot Line).