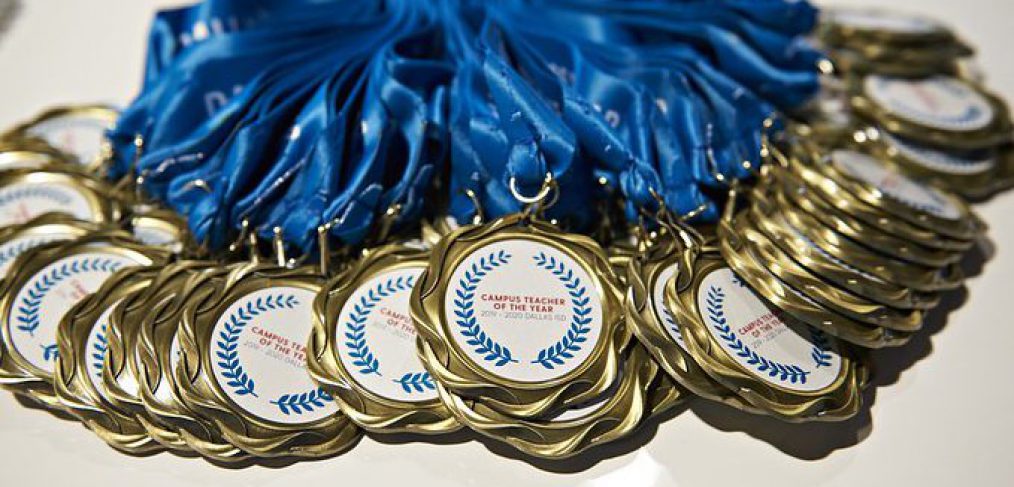 Who is the best?
The process to select the 2020 Teacher of the Year has begun at the campuses. The selection process provides opportunity campuses the opportunity to showcase their most effective teachers. The guidelines below ensure consistency across the district in how the nominees are identified at the campus level. The campus winner will represent his or her school in the district-level competition.
Teacher of the Year Characteristics:
Maximizes growth opportunities for students of all backgrounds
Collaborates with colleagues, students, and families to create a culture of respect and success.
Deliberately connects their classroom to the community and the community to the classroom.
Engages in leadership opportunities that contribute to the work of the profession.
Without exception, represents the district's vision and goals.
Expresses themselves in a poised and articulate way.
Eligibility Criteria:
Teachers who earn an Evaluation Rating of Proficient I or above.
Teachers who have not served as a campus winner in the last three years.
Teachers who have at least 3 years of creditable teaching service.
Campus Selection Teacher of the Year Selection Process:
After teachers meeting the criteria are nominated, campuses conduct a closed vote to select a campus winner.
Submit the campus winner's name to HCM through the link below by November 6, 2020
Note that the campus winner must be endorsed by the campus Principal. These winners will be invited, via a personal email, to apply for the district Teacher of the Year honor.
Dallas ISD District Teacher of the Year Categories and Selection Process:
The district will select a total of 9 finalists from three categories by campus type and school level. One winner (Elementary, Secondary, Choice/Magnet) will be selected from each category.
| | |
| --- | --- |
| Category | Level |
| Elementary | PK-5 |
| Secondary | 6-12 |
| Choice/Magnet | All Levels |
Following campus selection, winners are invited to apply through online application for the districtwide award.  Responses and endorsements for all submissions are reviewed and scored in Winter/Spring 2020.
Overall scores for each application are determined by weighting available components:
| | |
| --- | --- |
| Application and Endorsements  | 70% |
| TEI Evaluation Rating | 20% |
| Years of Teaching Experience | 10% |
Finalists are ranked by category.  The top 3 in each category will attend an in-person panel interview before selection of the districtwide winner.