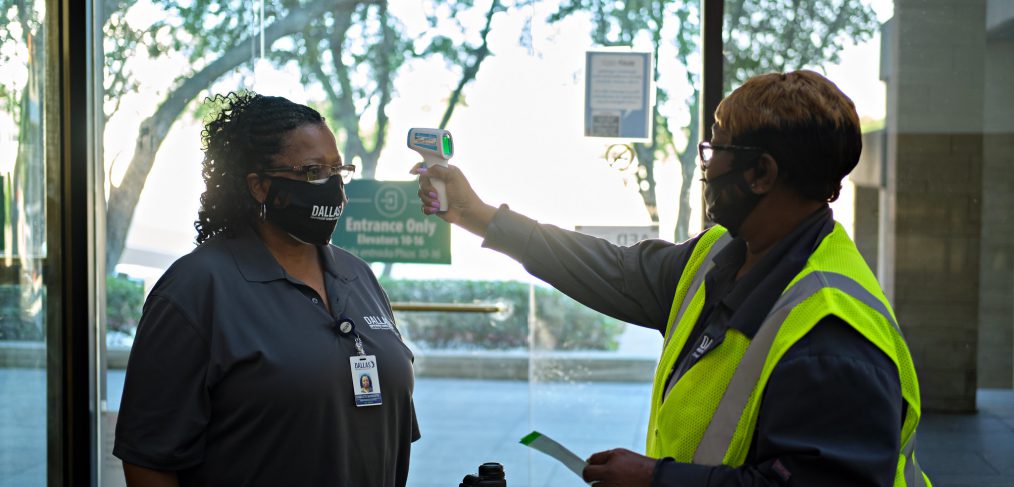 Help stop the spread
Dallas ISD employees can do their part to help prevent the spread of COVID-19 and other respiratory diseases by following simple guidelines as the district transitions back to working in the office.
The virus that causes COVID-19 can be spread through respiratory droplets from those who have few symptoms, no symptoms or are mildly ill. Due to the contagious nature of the virus, staff are asked to follow procedures established in the Education Evolution Central Staff Re-Entry Playbook if they are experiencing symptoms or have been in close contact with someone experiencing symptoms. Employees who are experiencing symptoms should refrain from coming to the office and immediately inform their supervisor for additional guidance.
For more information about specific symptoms, consult the re-entry playbook or visit the Centers for Disease Control and Prevention at www.cdc.gov.
If staff develop symptoms of COVID-19 during the workday or are confirmed to have COVID-19, the following steps will be taken to reduce transmission:
Separate ill staff from others and send them home.
Notify Health Services at (972) 925-3386 and chs@dallasisd.org.
Health Services will contact Custodial Services for Standard Operating Procedures for cleaning/disinfection of ill staff's desk/workstation.
In most cases, the department/facility will not need to be shut down.
Health Services will assist with contact tracing to determine other staff that may have been exposed to the virus and will inform staff of possible exposure to the virus while maintaining confidentiality. (See Board Policy DH and Educator Code of Ethics)
For questions regarding leave options if necessary, contact the HCM Benefits Department at (972) 925-4300 or benefits@dallasisd.org.
Confidentiality
While informing those affected by a potential exposure, Heath Services will keep details on staff members who develop symptoms or are confirmed to have COVID-19 strictly confidential in accordance with district policy and federal law. Because medical information is protected, staff are reminded to maintain confidentiality at all times and refrain from commenting on instances of possible or confirmed cases.
Appointment scheduling
Dallas ISD staff are encouraged to set appointments between the hours of 9 a.m. and 4 p.m. to avoid increased lobby, hallway, and elevator traffic during employee entry and departure times. This guideline applies to district staff conducting business at central office buildings and non-district visitors.
If visitors do not have appointments, the department will be contacted to determine whether someone is available to assist them. If the specific staff member is not available, visitors may be asked to schedule an appointment or attempt to conduct their business via phone or other means.