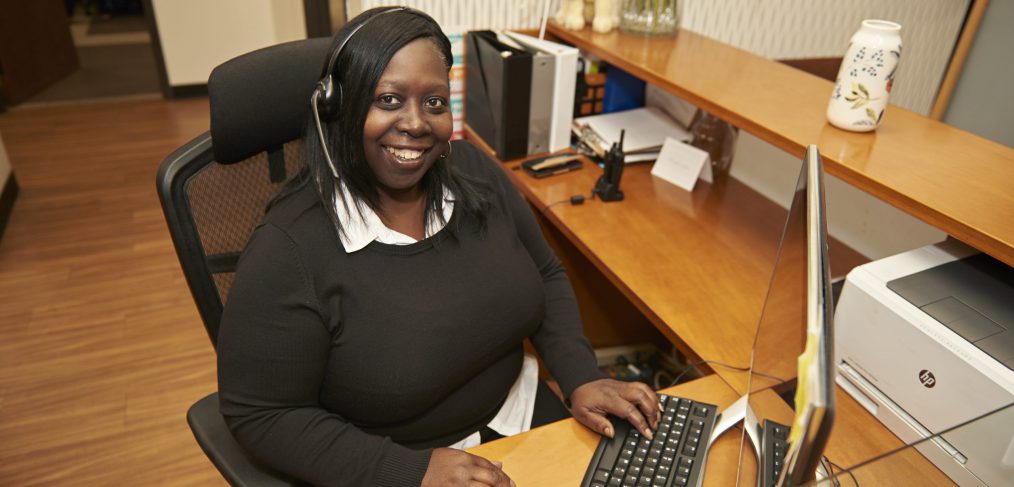 Central staff begins return to the office
The safety and well-being of all staff and visitors are a priority for Dallas ISD as the district begins to shift from working at home to working in the office, starting Monday, June 1. Staff returning to the various central administration buildings should expect new practices and protocols designed to ensure that all employees and visitors in district facilities feel safe and secure to effectively navigate the complexities of a "new normal."
The measures being implemented include more frequent sanitizing of public and work areas, access to hand sanitizer throughout the building, and flexible work schedules to avoid large congregations of people. A handbook detailing specific measures will be available next week.
Safety measures
One of the measures that will be implemented is no-contact temperature checks as employees arrive to park. Those whose temperature falls below 100.6° F will be able to park and enter the building. Employees should arrive 30 minutes prior to their start time to allow time for the screening process.
A building occupancy rate of only 25% will be allowed during the re-entry process. Upon entry, staff will be asked to wear a facemask and gloves in all public areas. Use of elevators will be monitored to ensure that social distancing guidelines are observed. Gathering in common areas will be discouraged. The cooperation of all staff in maintaining a safe environment as the district and the community continue to fight the spread of COVID-19 is appreciated.
The building, offices, and workstations will undergo a frequent germ blasting and intensive cleaning, which requires that staff and visitors be clear of the building no later than 7 p.m. No exceptions will be granted. Operation Services will post, in a designated area, the last date the building has been treated with a germ blast.
Summer schedule and dress code
District central buildings will be open from 7 a.m. to 7 p.m. The summer schedule, which begins June 1, will allow for a combination of remote and on-site work. Whether working from home or in the office, central staff employees will work a four-day workweek, and the district will close on Fridays.
Central office hours during the summer will be staggered between 7 a.m. and 7 p.m. Start/arrival times of 7 a.m., 7:30 a.m., 8 a.m., and 8:30 a.m., Monday through Thursday will be in effect. Supervisors may allow employees to work a schedule other than the four-day workweek if the change does not negatively affect department functions. Whether working from home or the office, employees are responsible for consulting with their supervisor to determine the start and end times of their daily work schedule during the summer. Please see the official summer work schedule memo. Staff who is working from Dallas ISD offices must observe the district's dress code, which is detailed in this memo. The memo includes some changes in the dress code like employees being able to wear denim jeans and sneakers during the summer.
Monthly Employees

Employees paid monthly will work the four-day workweek from June 1 through July 31.
Monthly employees will resume their regular work hours on Aug. 3.
Biweekly Employees
Employees paid biweekly will work a four-day workweek from June 5 through Aug. 6.
Biweekly employees will NOT work on June 5 if they participate in the four-day workweek.
Biweekly employees who participate in the four-day workweek will resume their regular hours on Aug. 7.
Employees will be required to certify their attendance. [See DK(REGULATION)] Exempt employees must communicate and check in daily with their supervisors. Additional information regarding certifying of attendance while working remotely, on-site or a combination of both will be forthcoming in future communications. The check-in procedure will be at the discretion of the supervisor.
Nonexempt employees and rehired retirees will be able to check in and check out using one of the following procedures:
Biometric clock
Onsite computer workstation (Additional information on this option will be provided by the Payroll Services department.)
Attendance form
Summer break
The district will be closed for summer break from June 29 through July 3. An employee will not be permitted to work at home or in the office for pay while the district is closed unless the employee has received prior written approval from his or her department chief.
All central staff employees will return to work on July 6. While building capacity limits are in place, an employee will continue to work a combination of on-site and remote work. The situation is monitored continually for guidance from city, county and state health officials.
If an employee takes additional time off, the supervisor is responsible for ensuring the attendance form is submitted. The total hours of the workweek may be a combination of both on-site work and at-home work, based on the employee's work arrangement with his or her supervisor.