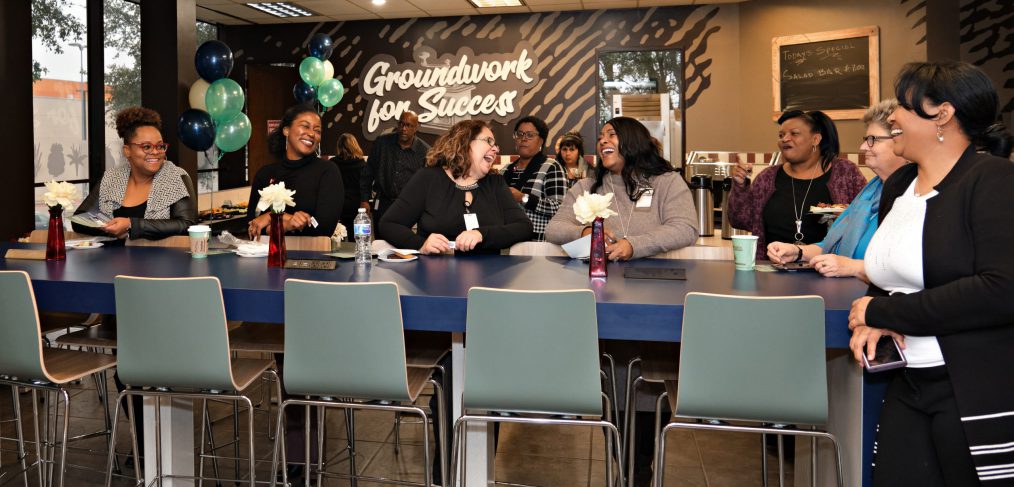 Café @ 9400: New home for good food
Sleek, modern furniture, inviting art and a popular salad bar greet staff and visitors at the newly inaugurated Café @ 9400.
While the café—located in the lobby of the Linus D. Wright Dallas ISD Administration Building— currently has some of the same choices as the food cart it replaced last week, it will eventually offer visitors a variety of hot and cold entrees for breakfast and lunch.
The café is expected to house a working kitchen and a chef. It will also have a component that connects what students are learning in the classroom with a real-life experiences, said Michael Rosenberger, executive director of Food and Child Nutrition Services, which runs the café.
FCNS is partnering with schools to use vegetables grown at campuses in the café, he said. It will also provide students in culinary arts programs real-life experience by having intern in the café. For staff, the café is a place where they can eat, take a break, and recharge their devices.
"We want you to come here, be happy, have amazing healthy food and amazing beverages, and have a moment to relax," Rosenberger said.