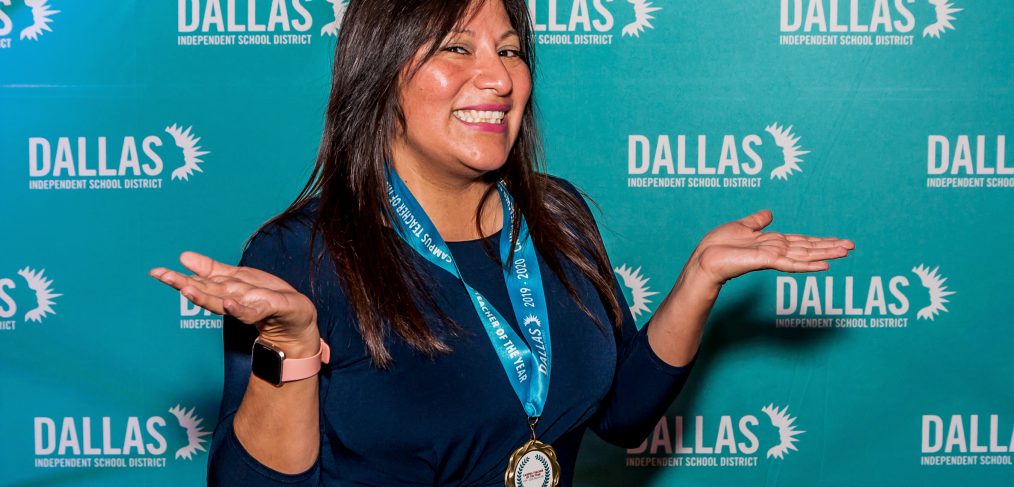 Teachers' contributions are recognized at special ceremony
The district's 230 campus teachers of the year were recognized recently with a gold medal and a special ceremony for their efforts on behalf of their students.
The 2019-2020 Campus Teacher of the Year for each campus was chosen by the staff at that campus. Unlike in past years, the 2019-2020 campus winners would have been ineligible if they had received the recognition in any of the past three years.
The campus teachers of the year who were recognized at the ceremony at the Frontiers of Flight Museum are now eligible to apply for the Dallas ISD 2019-2020 Teacher of the Year award. One elementary educator and one secondary teacher will earn the districtwide distinction.
Dallas ISD Superintendent Michael Hinojosa congratulated the winners. He spoke about witnessing the resilience of educators while visiting the schools impacted by the Oct. 20 tornadoes.
"I saw a tremendous attitude and a can-do spirit that we can overcome this. We do a great job for these students, and that's why I am so proud of you," Hinojosa said. "We're honored to be here with you."
During the ceremony, Central Market donated $50,000 to Dallas ISD to assist with disaster relief. The principals from the most affected campuses, Sandi Massey from Thomas Jefferson High School, Naomi Salas from Edward H. Cary Middle School and Phillip Potter from Walnut Hill Elementary School, received the check on the stage.
"It feels incredible just to see how Dallas residents have come on board to support all of the schools that have been damaged," Massey said. "We understand that our community has been damaged as well. And the whole community, damaged or not, has come together and supported each other throughout this process."