Winners of the Friendly Sweet 16 Munch Madness announced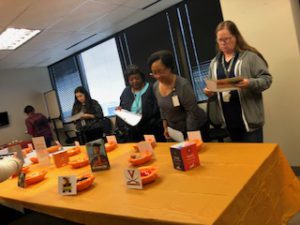 Several central employees moved up to the Fast Elite 8 bracket of Munch Madness last Friday by ranking especially selected sweets based on caloric count.
The winners are:
Gonzalo Reyes
Luis Rosado
Denise Donelan
Jenine Smith
Zavier Waters
Eva Macias
Velia Lara
Rachel Villanueva
These savvy winners will receive a prize and recognition for their keen knowledge of sweets and their generous contribution to scholarships for district students. Munch Madness is a fundraiser by the district's Core 4 Team on behalf of the United Negro College Fund. Contributions made during the Munch Madness events benefit the scholarship fund, and money raised by Dallas ISD will go to graduating seniors from district schools.
There are more chances to win during Munch Madness. From 11 a.m. to 2 p.m. on Tuesday, April 2, central staff will have the opportunity to rank assorted treats to become the Flexible Final 4 winners. The names of those who come closest to the actual caloric count will be announced on the staff page on April 4 and will receive a $5 gift card from Starbucks. Munch Madness takes place in Suite 910 of the Linus D. Wright Dallas ISD Administration Building.
The Munch Madness challenge will continue on Friday, April 5, for a chance to win one of two, $10 Subway gift cards in the Focused Championship battle. The winners will be announced during a special Munch Madness ceremony at 2 p.m., where they will receive a $25 gift card each.
Participating in the brackets is not required to enjoy additional treats during Munch Madness, only a small donation to the UNCF.