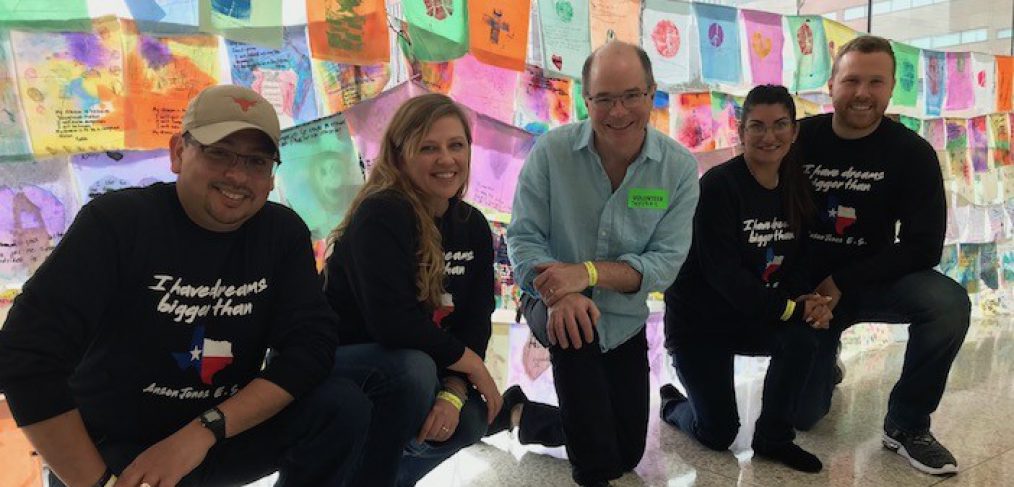 Dallas ISD student dreams fly high in Philadelphia
Each student at Anson Jones Elementary School has a dream, and now people across the world know it, too.
The campus participated for the second time in two years in the Dreamline Project that saw the school's 620 students each write down their dreams on individual flags. Whether the student dreamed of being a doctor, President of the United States, or running their own business, art teacher Candice Lindsay said the students greatly benefited from thinking about their future goals.
Four staff members from Jones Elementary traveled to Philadelphia on May 5 to show off the students' creations, as well as dream flags from Arcadia Park Elementary School.
"Some of these students had never really thought about the future before this project," Lindsay said. "The fact that these students sat down and thought about their dreams and were then able to visualize them, that could change the world."
"Seeing students express their aspirations through poetry and art was very powerful and reinforced the impact we as educators have on our students," added Anson Jones Elementary Principal Alberto Herrera. "We can easily extinguish or ignite these dreams by our actions and words. It is also a testament to the teamwork exhibited by Anson Jones staff as they kindled our student's imaginations to voice their ambitions in a relevant, heartfelt manner."
Jeff Harlan, founder of the Dreamline Project, called Anson Jones Elementary a model to all 120,000 students across 35 countries and 42 states who have declared and shared their dream on a flag.
"The presence of Anson Jones flags and leaders in Philadelphia made our event so much more powerful and potent. Everyone was touched by it," Harlan said. "We look forward to more collaboration with Anson Jones and to supporting a surge of dreaming and doing across Dallas in the months ahead."
Any Dallas ISD campus that wants to participate in the Dreamline Project can contact Mrs. Candice Lindsay at CBLOUNT@dallasisd.org or call Anson Jones Elementary School at 972-794-4700.