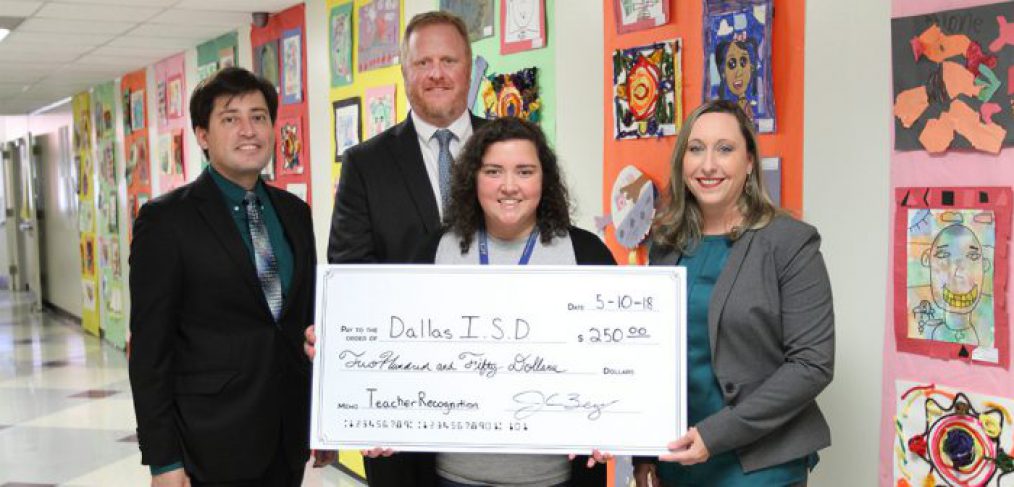 Special-education teacher at Hernandez is first to win award
Mia Witt didn't know why she got summoned to the principal's office earlier this month, but some of her students thought it was funny.
Witt, a special education inclusion teacher at Onesimo Hernandez Elementary School, is the first recipient of a quarterly $250 recognition provided by Carter Financial Management. The effort will spotlight and thank dedicated teachers by providing funds for them to spend in their classrooms. The award is coordinated by the district's Partnership Services and Special Education departments.
Parents, community and staff were encouraged to identify nominees that demonstrate qualities of a distinguished special education teacher, setting high standards and demonstrating commitment for improving outcomes for students who receive special education services in Dallas ISD.
Witt graduated from Woodrow Wilson High School and studied Elementary Education at UNT.
"Ms. Witt goes above and beyond what is expected of a teacher," said teacher Danielle Wegman. "She seeks out challenging students and goes the extra mile to engage them in their learning and help them conquer challenges outside of school as well. She sought out the challenge of joining an ACE school because of her love for transforming the lives of disadvantaged students. During her time at Hernandez ACE she has worked well outside the prescribed hours of tutoring to even ride the bus with her students to prevent fights."
Teacher Dora Griffin said Witt helps her students from the minute they walk into Hernandez until the minute they leave to go home.
"She knows every student on campus by name, even the gen ed students," Griffin said. "She helps motivates and encourage every student to be and do his or her best."