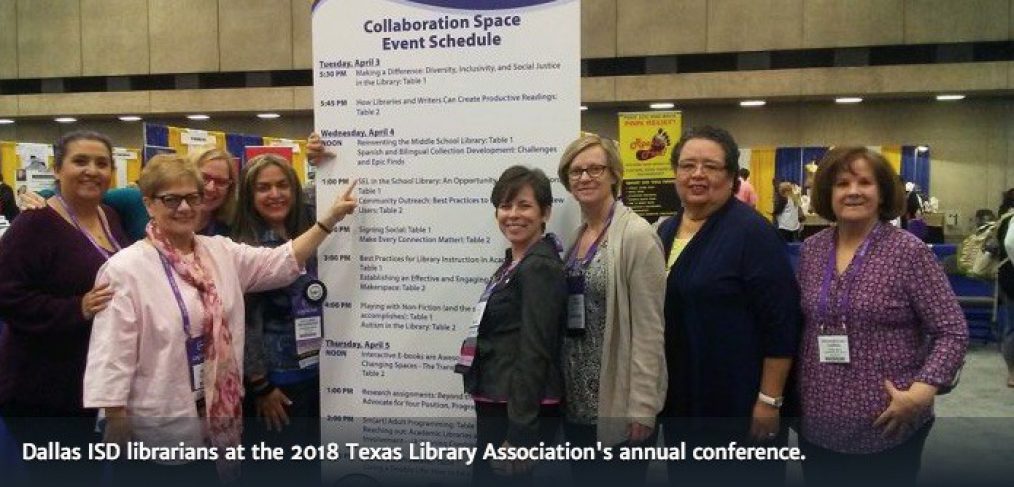 District staff, students part of Texas Library Association conference
The Texas Library Association's (TLA) Annual Conference wrapped up on Friday, April 6, in Dallas, and included representation from Dallas ISD.
More than 20 Dallas ISD school librarians presented professional development sessions and district librarians introduced 12 session speakers at the at the conference, which is the largest statewide librarian conference in the U.S. There were an estimated 7,000 librarians from universities, public school districts and public libraries in attendance.
Jerry Handford, a student at Cesar Chavez Learning Center and champion of this year's campus spelling bee, represented his school at the Texas Bluebonnet Award Luncheon. Handford said he wanted to speak at the luncheon because he likes trying new things.
"I've never given a speech in front of a lot of people, so it's something I wanted to do," Handford said.
Also at the conference:
Dr. Rosenid Badia, librarian at Benjamin Franklin Middle School and a past Dallas ISD Librarian of the Year, was the only Dallas ISD librarian selected for the 2018 TLA Tall Texans Leadership Institute.
Michelle Touchet from N.W. Harrllee Early Childhood Center was awarded a Diversity prize from the Junior Library Guild.
Four Dallas school librarians were leaders in the TLA Local Arrangements Committee.
The Booker T. Washington High School for the Performing and Visual Arts Jazz Singers performed for attendees during the second general session.