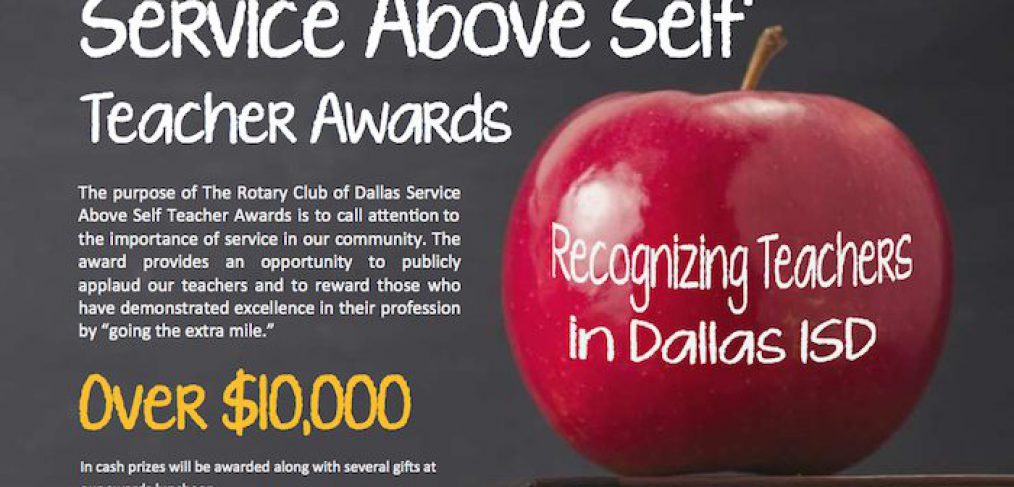 Rotary Club wants to honor teachers who go the extra mile
The Rotary Club of Dallas invites nominations from all district schools for its annual Service Above Self Teacher Awards. To call attention to the importance of service contributed by teachers, the organization will award up to $10,000 in cash awards and gifts to the selected teachers.
The award is designed to recognize teachers who:
perform over and above their job descriptions in ways that benefit the community, at-risk and disadvantaged students;
demonstrate selfless conduct for the benefit of others;
plan classroom instruction that reflects innovation and creativity;
The deadline to apply is Mon., April 16, 2018. Honorees will be notified Mon., May 21, and honored at a special awards luncheon Wed., August 8, 2018.
Teachers may self-nominate or be nominated by colleagues or others who feel the nominee deserves special recognition for service above self.
For more information on the requirements for the award, download an informational flyer here. To nominate a deserving teacher, visit http://www.dallasrotary.org/teacher-awards.