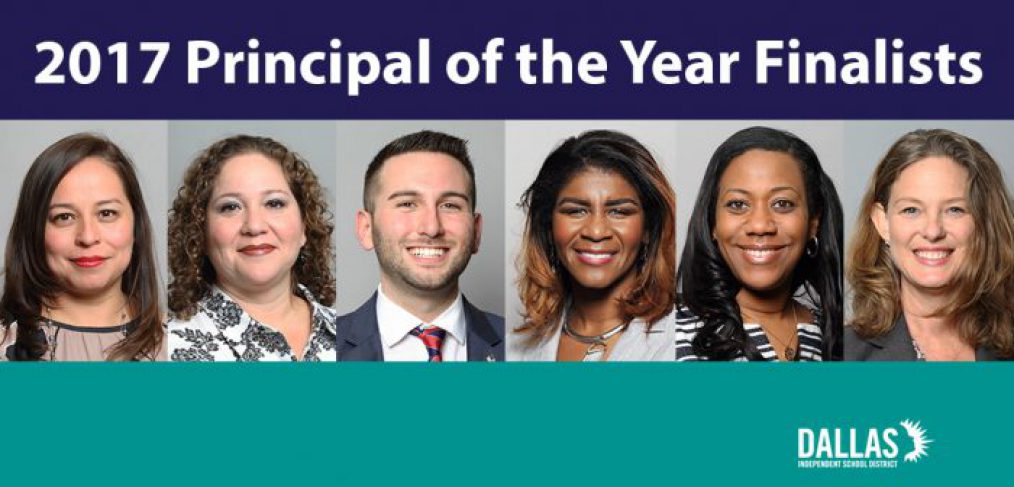 Top Dallas ISD campus leaders vying for 2017 Principal of the Year honors
Two 2017 Dallas ISD Principals of the Year will be named on Wednesday, Dec. 13, from a field of six highly skilled campus leaders.
Hopefuls submitted an application packet that includes their resumé, answers to two essay questions, letters of endorsement from parents, teachers and feeder-pattern executive directors. Two winners will emerge, one from an elementary school and the other from a middle or high school.
Learn about the six finalists below.
ELEMENTARY
Lourdes Garduño has served as principal at Winnetka Elementary School the past 10 years. In her application, she describes what it means to her to be a servant leader.
"The leader doesn't wear a title as a way to show who's in charge, doesn't think she/he's better than everyone else, and acts in a way to care for others," Garduño writes. "She/ he may, in fact, pick up the trash after a carnival or help clean up cafeteria tables, help the Robotics team carry boxes to the bus, open the building at 6 a.m. for the team to pick up their materials, mop when there is a spill, help a teacher set up bulletin boards, and even cook the turkey for the staff's yearly pot luck. Setting an example of service, the servant leader understands that it is not about the leader, but about others."
Laura Garza has been a principal in Dallas ISD for seven years, the past three at Annie Webb Blanton Elementary School, which is an ACE (Accelerating Campus Excellence) campus.
"Inspiring and empowering teachers to deliver high-quality instruction daily and being agents of change is the focus of our work; it is what drives the transformation of a low-performing campus to become a learning environment that embodies our mantra 'HARD WORK CONQUERS ALL,' " Garza writes. "To inspire is to influence someone to do something. To empower is to make stronger. The only way to make someone stronger is to believe that they can get stronger and to follow a mindset of improvement. For this reason, I have found it extremely important to focus on explaining why we do things and our urgency in getting it done. "
Robert C. Mclaurin has been principal at Walnut Hill Elementary School for the past three years. In his application, he explains how continually challenging teachers can empower and inspire them.
"It is important to develop teacher leaders on your campus who can support change and help make sense of things to all stakeholders," Mclaurin writes. "All teacher leaders must understand that ongoing change and innovation are necessary to achieve our campus vision and true excellence. As principal, it is important to celebrate the achievement of goals, but never stop motivating the staff to push for higher goals in the pursuit of excellence. Teachers should always feel fully supported and challenged by campus leadership."
SECONDARY
Michele Broughton has been a Dallas ISD principal for four years, all at the School of Business and Management at Townview Center. In her application, she shares that learning and applying new knowledge to her job to improve the lives of students, teachers, families and the community is what makes her a servant leader.
"A servant leader is one who understands his or her ethical responsibility to the greater society and is fully aware of the overall concept of growing people," Broughton writes. "The most prominent difference between a stereotypical leader and a servant leader is the fact that a leader realizes the need for a common goal and the plan to achieve that goal. A servant leader realizes the same viewpoint but is sensitive to how each facet of the plan is implemented, thinks about whether it is for the good of the order, and ultimately utilizes the gifts of each individual to achieve a positive outcome for all. One of the servant leader's greatest charges is to skillfully match talent to purpose and then motivate a team of people to become change agents together."
Jonica Crowder-Lockwood has worked as a principal in Dallas ISD for 12 years, the past three at D.A. Hulcy STEAM Middle School. In her application, she explains how she sets the expectation that teachers deliver high-quality instruction every day.
"In order for that goal to come to fruition I must provide an environment where learning can take place," Crowder-Lockwood writes. "During the summer I meet with our campus Culture Team, our goal is to develop and review our plan for a creating an environment for positive student culture so learning can thrive. I want to develop not only the academic side of students but also the social and emotional side. At the beginning of each day all students and staff begin their day together in Hulcy Huddle, where a character lesson is taught."
 Danielle Petters has been a principal in Dallas ISD for 16 years, the past three spent leading H. Grady Spruce High School. As part of her application, she explains why empowering and inspiriing teachers doesn't happen by accident.
"Creating a school where quality instruction is the norm and teachers see themselves as agents of change does not happen by chance," Petters writes. "It involves intentionally creating an aspirational and safe school culture, hiring the right people, supporting them, constantly asking for and acting on feedback, and intentionally developing leadership at all levels. Leading up to that moment when a teacher welcomes her first student, to her first class, on the first day of school, a sophisticated series of interlocking gears come together to supercharge and propel that instant forward and set the stage for high-achieving students, teachers, and schools."