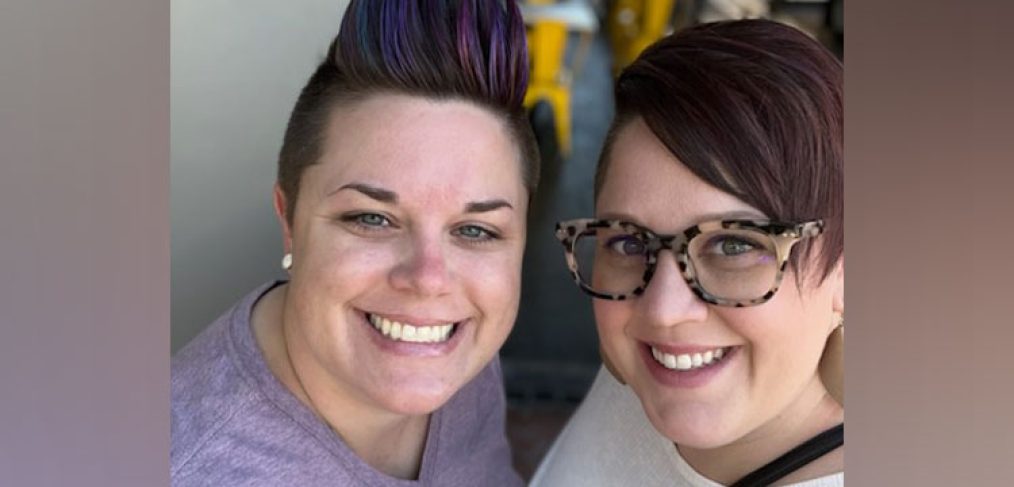 Pride Month Spotlight: Linda Kratzert
For Linda Kratzert, principal at Sylvia Mendez CREW Leadership Academy, Pride Month means celebrating and honoring trailblazers in the LGBTQ+ community who paved the way. 
"Because of them we have this space," she said. "It is a time not only to honor those that came before us, but also to celebrate the life and everything that we have right now." 
Pride Month is celebrated nationally during the month of June to commemorate the 1969 Stonewall Uprising in Manhattan. Nationally and locally, there are events such as parades, workshops, art exhibitions, festivals, concerts and other celebrations that highlight the contributions of the LGBTQ+ community.
Kratzert cites RuPaul, an iconic drag performer and television personality, as one of the trailblazers who has opened doors and paved the way for others, specifically those in the drag community. 
"I really enjoy and have a connection to the drag community because everybody from that community is somebody that I respect, and it's something that many of us love and enjoy," she said. 
Kratzert has worked 16 years at Mendez CREW Academy, having started as a teacher and then worked as an instructional coach and assistant principal—and for the last three years as the school's principal. She says she's always found the school to be a safe place not only for her, but for colleagues and community members who are part of the LGBTQ+ community.
She cites that welcoming sense of community as one of the reasons that drew Kratzert to work in Pleasant Grove, where the school is located. She feels that parents and families are willing and eager to help the school any way they can. 
"You have generations of generations of kids and brothers, sisters, and cousins attend our school," she said. "It builds that really good sense of community with the family and they know you."
She says that the community and colleagues promote love and acceptance, no matter gender, race, or sexual orientation. 
"I've never been ashamed of who I am or hidden who I was," she said. "My staff knows my story and loves me for me. I have many staff who are part of the LGBTQ+ family and everyone here, staff, students, and parents, loves each one."
At Mendez CREW Academy, Kratzert makes sure that everyone feels included. She says that simple things such as wearing a pin that says "I am an ally" creates an inclusive space where everyone feels respected and loved in the school.  
In her office, she has pride flags and says the school has had different displays such as Black Lives Matter, or college displays, at different times throughout the year.
 "It's all about the sense of community, no matter the background, no matter the race, the ethnicity, and gender."
Kratzert recognizes that Pride Month is not something that is celebrated in every school district across the state, nor across the nation. 
She says that while she can't speak for everybody, she feels that for a large part, everybody she knows who works for Dallas ISD and is part of the LGBTQ+ community has felt welcome and supported due to the culture that's been built at Dallas ISD.  
In 2017, the Dallas ISD Board of Trustees passed a resolution which pledged to provide a high quality education regardless of one's status, including sexual orientation, gender, and gender identity. 
Since that commitment, the district has established an LGBTQ Youth Department which provides resources to students and families. For more information, visit www.dallasisd.org/lgbtq
During Pride Month or any time of year, for Kratzert, it all comes down to supporting the students and maintaining that safe community space where everyone feels welcomed.
"We want to always develop well-rounded kids, not just academically, but socially, emotionally and knowing where they've come from and being proud of their community and their heritage– being proud of what they've accomplished while they're here," she said.
On a personal level, Kratzert celebrates Pride Month in different ways and has noticed this year more people seem to be telling her and her girlfriend, a Dallas ISD team member on another campus, "Happy Pride Month," when they see them out in the community, as both have rainbow highlights in their hair. 
"My girlfriend has always been herself, out, and open with her staff and families with no backlash. I feel like Dallas ISD has provided a safe environment for staff and students to come to school each day and be themselves," she said.