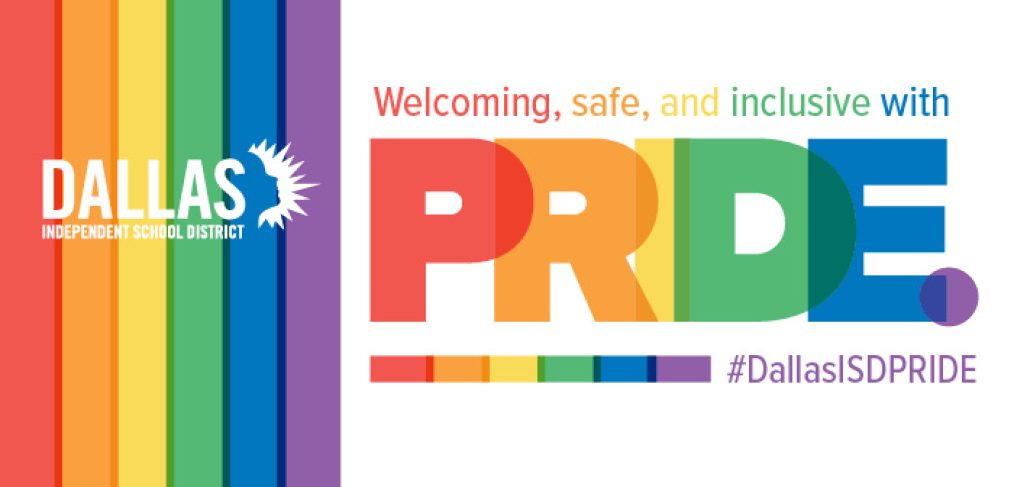 Celebrating Pride Month with supports
Mahoganie Gaston of Dallas ISD's LGBTQ Youth Services recently attended a high school's Gay Straight Alliance panel, where she met a student who exemplified the "why" behind everything Gaston does. The group was small, so the 16-year-old student felt comfortable expressing that he did not have any support at home. 
"It was really heartbreaking because he was basically saying that he didn't want to be gay because no one supports him in his family," Gaston said. "Leaving that space, he realized that on his campus, within that room, there were five adults and other members of the LGBTQ community who were there to support him." 
That is why celebrating Pride Month throughout the district is so important to Gaston. She said knowing the policies Dallas ISD has in place is one of the best ways to support students on every campus. To learn about the policies, visit https://www.dallasisd.org/lgbtq.
Students also have access to various gay-straight alliances. These extracurricular, student-led clubs are protected by the Equal Access Act of 1984, and they currently exist on 25 percent of Dallas ISD's secondary campuses.
LGBTQ Youth Services' goal is to one day see gay-straight alliances at 100 percent of the district's secondary schools, and that starts with support from staff. Gaston is encouraging all campus staff to reach out to her to see if there is already a Gay Straight Alliance they could join as a sponsor. For anyone on a campus without a Gay Straight Alliance, Gaston can help you get one started. 
"The data shows that when you have a gay-straight alliance on campus, the campus culture is a lot healthier for all students," she said. "Students are always looking to see who those staff members are on campus, because they are those safe spaces when something is going wrong or they need someone to talk to." 
As for central staff, LGBTQ Youth Services and Mental Health Services organized a small ally group that they are hoping to expand this upcoming school year. If you are interested in joining as a member of the LGBTQ community or as an ally, contact Gaston at mgaston@dallasisd.org. 
In collaboration with Mental Health Services, LGBTQ Youth Services also put together a detailed resource guide that can be shared with parents, staff and students alike. It is broken down into several categories, including housing, medical support and mental health. A few key resources for staff include: 
To see the full list of resources, visit www.bit.ly/DISDLGBTQ. You can also email mgaston@dallasisd.org to request Dallas ISD-specific trainings on district policy and establishing Gay Straight Alliances. 
"We are putting words into action," Gaston said. "Dallas ISD fully supports the LGBTQ community. By highlighting Pride Month, it shows not just individuals within the Dallas-Fort Worth area but across the nation that this is what we do in Dallas ISD."